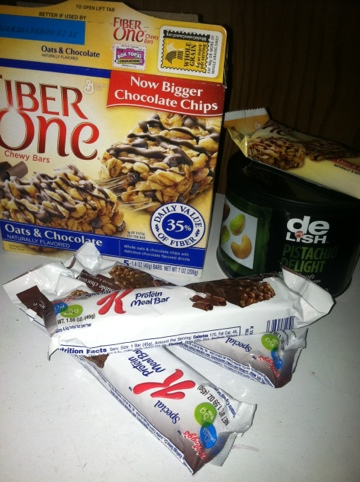 I was on location this weekend for a film shoot and it just reminded me of the importance of B.Y.O.S. or bring your own snacks! Now I'm lucky enough to be able to make specific requests most of the time like vegetarian, lots of fresh fruits and veggies, etc., however, I still always try to remember to bring a "just incase" snack. You never know when they'll have donuts and bagels for breakfast and your ravenous after a long night of sleep and will be tempted eat anything. Bringing snacks helps you stay on track without starving!
For this particular shoot the other actress and I brought fiber one bars, special K meal bars and mixed nuts. Not exactly a buffet but enough to tie us over if need be. Now normally I would recommend staying away from over processed bars but in this instance it's much easier to have a few bars and a bag of nuts in your purse instead of dealing with perishables. So maybe you don't have a film shoot coming up but it also comes in handy for road trips, camping trips or your office retreat, pretty much anywhere your at someone else's mercy for food!
Nuts are a great go-to, just watch out for the salted or cinnamon sugared ones. Get plain nuts and don't eat much more than a handful at a time. Nuts have lots of great fat in them and we really don't need as many of them as we think to feel full. Just give your body a little time to digest and then go back for seconds if you still want. This particular nut mix is pistachios, almonds and cashews. Pistachios are a really top choice nut health wise and cashews have 'happy' nutrients in them that can be a sort of natural Prozac. They're two of my favorites!
Fiber/protein bars can be a little trickier. Some are loaded with sugars and carbs so you'll have to do a bit of label reading for these. I love the Special K meal bars because they have a lot of fiber and protein, plus they taste pretty good. They can fill you up and leave you satisfied for around 170 cals. Some of my other favorites include LARABARs which are vegan and made from fruits and nuts. My two go to flavors are lemon pie and cherry pie- they're soo yummy! KIND bars are also great but I think of them as more of a snack or maybe a quick breakfast/lunch when there's not too much time till the next meal. They have a great blueberry cashew and a naughty dark chocolate sea salt that can hit the spot. Don't be afraid to spend a little time in the store aisle reading all the nutrition labels, it'll help you find a great bar that's good for you and can become your diet's safety net!
Thanks for reading! I love that Go Sweet and Skinny is your go-to website for healthy living tips, vegan and vegetarian recipes (from everything from appetizers to cupcakes!) and diet advice. I"m committed to helping you get skinny and live the sweet life! Please follow @gosweetnskinny on twitter, like us on Facebook and subscribe to our YouTube channel (youtube.com/user/gosweetandskinny) to keep yourself sweet and skinny 24/7. And as always, feel free to email me at gosweetandskinny@gmail.com and let me know what low fat, healthy recipes you want to see on the site, what diet books your trying and ask any diet questions your little heart desires! I'm here to help you!:)