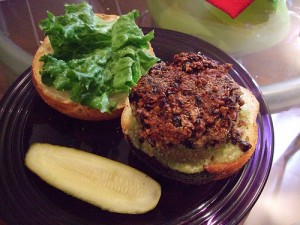 There is nothing I love more than a good homemade veggie burger, if you read my article on The Diner you know that I have a penchant for seeking out killer veggie burgers. So when I saw this recipe while flipping through the pages of fitness magazine, I knew I had to try it! Can you believe I had never even attempted to make my own homemade veggie burger before? Blasphemy! I know! Well this burger combines my beloved veggie burger with a splash of Mexican flair for a tastebud knock out. Eat up kiddies!
Black Bean Fiesta Burger
Makes four burgers
1 15 ounce can of black beans drained and rinsed
1/2 cup of finely crushed blue corn tortilla chips
1/3 cup salsa
1/2 cup of reduced fat grated cheddar
1 large egg lightly beaten
1 scallion finely chopped
1/4 teaspoon black pepper
4 large hamburger buns (optional)
2 teaspoon vegetable oil
4 butter lettuce leaves (optional)
First, blend or mash your black beans till they're a chunky puree. Now stir in your crushed chips, salsa, black pepper, cheddar, egg and scallions. Set the mixture aside for 10 minutes then shape into four patties. Next, place the patties on a plate, cover with plastic wrap and refrigerate for an hour or overnight. When your ready to eat up your delicious creation simply put a teaspoon of oil in a large non stick skillet on your stove top. Cook each side till golden brown just like a regular burger and then remove from the heat. You can serve them however you like, on a toasted bun or whole wheat pita, I would probably just keep it on the butter lettuce and top with salsa and maybe a little more cheese if I was feeling naughty!
Thanks for reading! I love that Go Sweet and Skinny is your go-to website for healthy living tips, vegan and vegetarian recipes (from everything from appetizers to cupcakes!) and diet advice. I"m committed to helping you get skinny and live the sweet life! Please follow @gosweetnskinny on twitter, like us on Facebook and subscribe to our YouTube channel (youtube.com/user/gosweetandskinny) to keep yourself sweet and skinny 24/7. And as always, feel free to email me at gosweetandskinny@gmail.com and let me know what low fat, healthy recipes you want to see on the site, what diet books your trying and ask any diet questions your little heart desires! I'm here to help you!:)