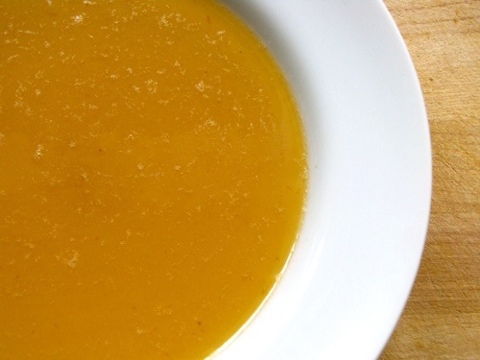 Not that you have to wait till fall to enjoy this scrumptous soup but nothing makes me happier than a warm bowl of homemade soup on a brisk October day. However, when it comes to soups you can never be too careful, the canned stuff can come with an extra helping of sodium and preservatives, yuck! So here's an awesome and quick recipe for a soul warming carrot ginger squash soup I found in Health magazine! It's veggie and vegan friendly but mainly just a great healthy choice. You can also make a large batch and keep it in the fridge for a quick healthy afternoon snack .
Carrot Ginger Squash Soup
Saute 1/2 cup chopped onions, 1 tbsp fresh ginger and 1 clove minced garlic in 1 tsp olive oil for 3 minutes in medium pot. Add 1 1/2 cup low sodium vegetable broth, 1 cup frozen butternut squash cubes and 1 cup of carrot slices. Bring to a boil, and simmer for 5 minutes. With a hand blender, puree until smooth; if desired add broth for thinner texture. Season with salt and pepper to taste.
Thanks for reading! I love that Go Sweet and Skinny is your go-to website for healthy living tips, vegan and vegetarian recipes (from everything from appetizers to cupcakes!) and diet advice. I"m committed to helping you get skinny and live the sweet life! Please follow @gosweetnskinny on twitter, like us on Facebook and subscribe to our YouTube channel (youtube.com/user/gosweetandskinny) to keep yourself sweet and skinny 24/7. And as always, feel free to email me at gosweetandskinny@gmail.com and let me know what low fat, healthy recipes you want to see on the site, what diet books your trying and ask any diet questions your little heart desires! I'm here to help you!:)