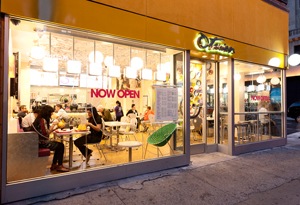 Last night I was saving the planet one meal at a time with out even realizing it! I stumbled upon this all vegetarian fast food-like establishment after kicking some butt at an audition around midtown west and decided I would test it out! It's on 56th and 8th ave, right on the corner and is pretty casual and affordable. My whole meal was under 10 dollars, I got two sour cream black bean tacos, sweet potato chippers and a water. It was quite a good amount food for the price, not to mention yummy. Of course like the veggie-foodie dork I am, I took pictures and looked up their website, when to my surprise I stumbled upon a vision that extends far beyond just eating healthier vegetarian fare. Check out this insert from their vision statement that I found quite inspiring.
Otarian is based on our passion for, and dream of, a sustainable planet, and this vision is paramount to the concept and implementation of the Otarian philosophy. It is the tangible display of our hope in the intelligence of human kind to understand, accept and adapt to a more sustainable way.

One of the main contributors to global environmental degradation is the livestock industry. The effects of large-scale meat production are wide-spread and impact unsustainably on almost all aspects of the environment whilst creating other economic and social costs. Greenhouse gas emissions, inefficient utilisation of resources, deforestation, water pollution, land degradation, unfair trade, ill health and obesity are just some of these costs. The Otarian menu is completely meat-free, a delicious range of vegetarian options that eliminate the negative effects of livestock production whilst providing nourishment. Otarian serves dishes that travel the globe offering to all food that loves life and the planet. – otarian.com 'our vision' 
How cool is that?! A veggie fast food restaurant that is literally saving the planet one meal at a time?! I implore you to seek one of these babies out and have a meal, tell your friends to have a meal, etc. The world needs more people like the founders of Otarian, people who are looking at the bigger picture and providing fast and easy America with healthy options on the go and contributing to not only healthier people but a healthier planet!  Check out their website http://www.otarian.com/love-food/our-restaurants/new-york.html and start eating for your planet!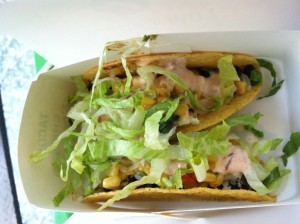 My sour cream black bean Otarian tacos here on the right >>

Thanks for watching! I love that Go Sweet and Skinny is your go-to website for healthy living tips, vegan and vegetarian recipes (from everything from appetizers to cupcakes!) and diet advice. I"m committed to helping you get skinny and live the sweet life! Please follow @gosweetnskinny on twitter, like us on Facebook and subscribe to our YouTube channel (youtube.com/user/gosweetandskinny) to keep yourself sweet and skinny 24/7. And as always, feel free to email me at gosweetandskinny@gmail.com and let me know what low fat, healthy recipes you want to see on the site, what diet books your trying and ask any diet questions your little heart desires! I'm here to help you!:)