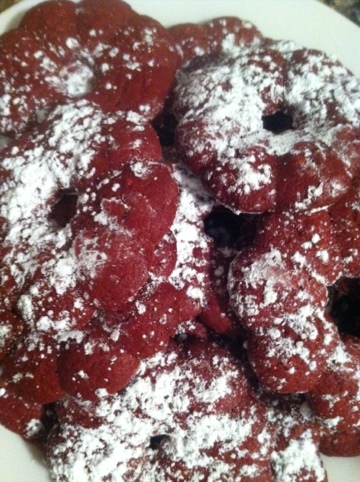 Happy Holidays my sweet and skinny loves!! I hope your all done with your baking and cooking and have sometime to sit back and relax with your family for the next few days! This year I made nutella xmas trees, red velvet wreaths(pictured above) and vegan snickerdoodles! Since cookies are certainly on the naughty list I made them bite size so everybody can taste each different one with out busting their cookie calorie budget. I also made some pretty incredible wicked hot chocolate cupcakes which you can look forward to being posted about next week and some vegan strawberry shortcake cupcakes who's recipe I'll also divulge soon!
Alright, enough taunting you about yummy baked goods– here are some sweet and skinny tips for tonight and tomorrow! Enjoy!
Staying Slim during Santa Season:
Come prepared. I know it's hard to remember to eat breakfast with all the excitement of the holidays and all the things on your to do list but a good healthy breakfast will be your best friend later in the day! Don't arrive at a party ravenous or you'll eat whatever they have out, when your not too hungry you have the advantage of being picky about what goes in your mouth!
Bring your own. This is my go to. When in doubt bring a delicious appetizer and/or dessert that's healthy or low in fat. This way everyone wins, you look like a super sweet guest and you know for sure there will be something you really like that's also healthy for you at the party!
Think like a bird. That's right, take tiny portions of everything and only go back for seconds on things you absolutely love. You get to sample all the goodies and not over eat. An even better ideas is to allow yourself twenty minutes before you go back for seconds. This way you'll know of your truly hungry enough for another!
Hope this helps! Drink lots of water and focus on catching up with your loved ones, not the buffet and you'll sail through the holidays sweet and skinny style!
Thanks for reading! I love that Go Sweet and Skinny is your go-to website for healthy living tips, vegan and vegetarian recipes (from everything from appetizers to cupcakes!) and diet advice. I"m committed to helping you get skinny and live the sweet life! Please follow @gosweetnskinny on twitter, like us on Facebook and subscribe to our YouTube channel to keep yourself sweet and skinny 24/7. And as always, feel free to email me at gosweetandskinny@gmail.com and let me know what low fat, healthy recipes you want to see on the site, what diet books your trying and ask any diet questions your little heart desires! I'm here to help you!:)