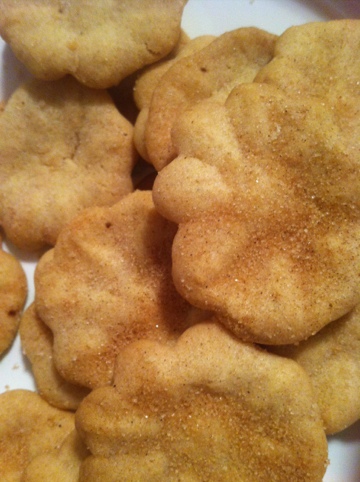 These vegan snickerdoodles were a huge hit over the holidays with all my non vegan friends and family so I knew I had to share it with you! These light and crunchy, cinnamon sugar cookies are amazing all year round! Enjoy!
VEGAN SNICKERDOODLES
1 cup non hydrogenated margarine (softened)
1 1/4 cups sugar
2 tablespoons non dairy milk
1 1/2 teaspoons pure vanilla extract
1 2/3 cup all purpose flour
1/4 cup cornstarch
1 teaspoon cream of tartar
1/2 teaspoon baking soda
1/4 teaspoon salt
In a large bowl, cream the margarine and sugar together for a couple minutes till its mixed well. Add your non dairy milk and vanilla and beat till that's combined as well. Now sift in flour, cornstarch, cream of tartar, baking soda and salt and mix until a soft dough forms. Chill dough for atleast 30 minutes ( so its easier for you to work with). Preheat your oven to 350 degrees and get out your cookie sheets. In a small shallow bowl or tray combine sugar, cinnamon and a pinch of nutmeg. Drop a tablespoon of dough in your cinnamon sugar mix and roll it into a ball. Place the balls on your cookie sheet and lightly sprinkle some cinnamon sugar both before and after it goes in the oven. Cookies should take 10-12 minutes to cook, they'll get puffy in the oven but will deflate once you let them cool.
Thanks for reading! I love that Go Sweet and Skinny is your go-to website for healthy living tips, vegan and vegetarian recipes (from everything from appetizers to cupcakes!) and diet advice. I"m committed to helping you get skinny and live the sweet life! Please follow @gosweetnskinny on twitter, like us on Facebook and subscribe to our YouTube channel to keep yourself sweet and skinny 24/7. And as always, feel free to email me at gosweetandskinny@gmail.com and let me know what low fat, healthy recipes you want to see on the site, what diet books your trying and ask any diet questions your little heart desires! I'm here to help you!:)