Strawberries and Cream Cupcakes
I made these delicious morsels yesterday for my boyfriend's birthday and they turned out ah-mazing, if I do say so myself. Now, if your New Yorker, you should be ordering them online and having a fresh batch delivered to your home office, but if your an out of towner, I'll let you in on a few tips so you can play at home!
strawberry secrets
Well first of all, whenever I'm making a fruit infused cupcake I always use fresh organic fruit. Ripe, fresh strawberries chopped up are the heart of this fabulous treat. I puréed about 3/4 of the pint of strawberries in my blender and added it to the vanilla vegan cake batter base. With the remaining 1/4 I chopped into small pieces and folded it into the tofu cream cheese icing. The icing just tastes incredible and it's so simple! It tastes just like a strawberry fribble from Friendly's, for those of you who know what that is.
Secondly, I found this amazing strawberry infused apple sauce that I used instead of oil to not only add some moisture and strawberry flavor to the cake but it also makes the cupcake a bit lower in fat and cals by eliminating the oil!
So there you have it! Two easy steps to change your plain vanilla cupcake recipe into an adorable strawberries and cream creation! Play around and enjoy!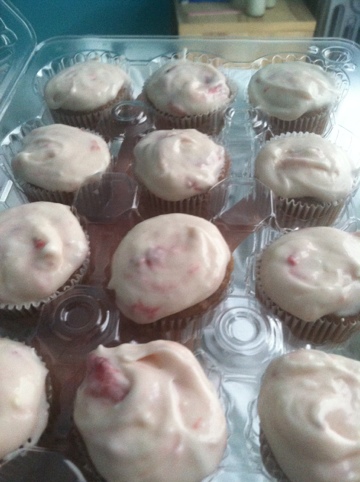 Thanks for reading! I love that Go Sweet and Skinny is your go-to website for healthy living tips, vegan and vegetarian recipes (from everything from appetizers to cupcakes!) and diet advice. I"m committed to helping you get skinny and live the sweet life! Please follow @gosweetnskinny on twitter, like us on Facebook and subscribe to our YouTube channel (youtube.com/user/gosweetandskinny) to keep yourself sweet and skinny 24/7. And as always, feel free to email me at gosweetandskinny@gmail.com and let me know what low fat, healthy recipes you want to see on the site, what diet books your trying and ask any diet questions your little heart desires! I'm here to help you!:)