Strawberry Banana Muffins
I found this fantastic recipe for strawberry banana muffins on Peta.org! They have a ton of great vegan recipes that you can give your own spin to when you make 'em at home! Strawberry-Banana has got to be my favorite flavor combination so I could not resist these little babies!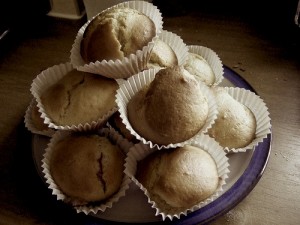 Strawberry Banana Muffins
3/4 cup light brown sugar
Egg replacer equivalent of 2 eggs
1 tsp. vanilla extract
3 ripe bananas, mashed
1/2 cup melted margarine
2 1/4 cups of flour
1 1/2 tsp. baking powder
1/4 tsp. baking soda
1 tsp. cinnamon
pinch of salt
1 cup chopped strawberries
Preheat your oven to 350 degrees and line your muffin pan with liners. In a bowl, whisk together your brown sugar, egg substitute, vanilla, and bananas. Next, add your margarine. In a separate bowl, combine the flour, baking powder, baking soda, cinnamon, and salt. Now gently, fold the berries into the flour mixture. Add your first bowl in, and stir until just combined. Fill the cups just a little more than half way and bake for about 20 minutes! Enjoy! These are a lovely breakfast treat with some tea or soy milk!