After spending most of my day elbow deep in cake batter for this weekend's red velvet cake pop centers, I needed a break and something that wasn't going to destroy my bikini body progress. Sushi to the rescue! While, I personally went through a phase couple years ago where I ate sushi everyday till I couldn't stand it anymore, it's ridiculously hot summer days like today that make yearn for the skinny treat. Sushi, if you avoid any of the fried (aka tempura) and mayonnaise filled ones, is wonderful healthy meal option. Whenever I'm watching what I eat it's always one of my go-to  suggestions when someone wants to go out to dinner or order take out and I don't want to ruin my diet. The trick is to find a really good sushi spot or two and close by! Which is exactly what my game plan was for today and since, I'm never not working I decided to write you guys a little review of the local sushi spot in my hood! Enjoy!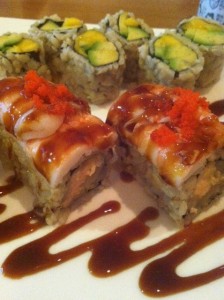 OSAKA Japanese Cuisine (osakaqueens.com)
Located amongst the many sushi restaurants that crowd Broadway in Astoria, Osaka is a clean, quiet restaurant that is perfect for dinner with a friend or a relaxing late lunch by yourself. The servers are polite but not overbearing, as I tend to find often is the case in Japanese restaurants. I ordered an Avocado/Mango roll and a Ginza roll (minus the mayonnaise). The Ginza roll consists of cooked salmon, onion, mango and shrimp. I got both rolls with brown instead of white rice (which is nice that they offer). While it appeared they left out the mango along with the mayonnaise (that I didn't want) on my Ginza roll, the meal was otherwise very good. Everything tasted fresh and I was very satisfied with my lunch. I will definitely order from this place again and if your in Astoria and need some reputable sushi – head on in! 
25-24 Broadway, Astoria, NY 11106
Thanks for reading! I love that Go Sweet and Skinny is your go-to website for healthy living tips, vegan and vegetarian recipes (from everything from appetizers to cupcakes!) and diet advice. I"m committed to helping you get skinny and live the sweet life! Please follow @gosweetnskinny on twitter, like us on Facebook and subscribe to our YouTube channel (youtube.com/user/gosweetandskinny) to keep yourself sweet and skinny 24/7. And as always, feel free to email me at gosweetandskinny@gmail.com and let me know what low fat, healthy recipes you want to see on the site, what diet books your trying and ask any diet questions your little heart desires! I'm here to help you!:)