You know those mornings when you wake up just ravenous for some sweet carby treat?! It usually happens to me on the weekends or during that lovely time of the month. Well this is perhaps an unusual but totally satisfying breakfast idea for you to give a spin!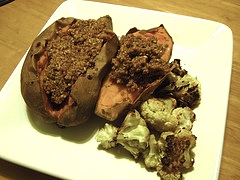 Sweet Potato with Almond Butter and Maple Syrup
Poke a medium sweet potato with a fork 3 times; microwave on high until cooked, 3 to 5 minutes. Cut the potato in half lengthwise and mash up the insides a bit. In a seperate bowl, mix 2 tbsp of almond butter and tsp maple syrup and drizzle it over the potato! There you have it, quick and easy and loaded with good for you foods!
Thanks for reading! I love that Go Sweet and Skinny is your go-to website for healthy living tips, vegan and vegetarian recipes (from everything from appetizers to cupcakes!) and diet advice. I"m committed to helping you get skinny and live the sweet life! Please follow @gosweetnskinny on twitter, like us on Facebook and subscribe to our YouTube channel (youtube.com/user/gosweetandskinny) to keep yourself sweet and skinny 24/7. And as always, feel free to email me at gosweetandskinny@gmail.com and let me know what low fat, healthy recipes you want to see on the site, what diet books your trying and ask any diet questions your little heart desires! I'm here to help you!:)