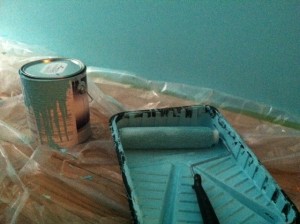 Who doesn't love to do a little spring cleaning?! Well, okay, I'm not terribly jazzed about it either but sometimes you got to put in some work to keep that home beautiful and what better incentive to pamper your sweet abode than all the calories you'll burn while doing it!
Yesterday, I had my girl over to help me paint my bedroom this kick-ass shade of turquoise and boy did we work up a sweat! Neither of us felt guilty about skipping the gym that morning or indulging in some skinnygirl margaritas and guacamole after we finished. And rightly so on our part! Painting burns about 320 calories an hour and we had just made a whole afternoon/evening of it! So here's a list of some other surprise workouts around the house, cause come on doesn't it make it a little more exciting to clean when you get to skip the gym to do it?!
Scrubbing your tub..200 cals in 30 minutes
Making Beds…………..130 cals if you have 30 mins worth of beds to make
Cleaning Windows…125 cals for 30 mins of wax on, wax off
Wash your dishes…..160 cals for 30 mins of skipping the dishwasher
Vacuuming……………..180 cals for an hour of clean carpet
Ironing……………………140 cals an hour but don't hunch over the board
 Climbing Stairs……..285 cals for 30 minutes of putting that laundry away
Now get cleaning my skinny little sweethearts!