THE DINER: THIS IS A STORY OF A VEGGIE BURGER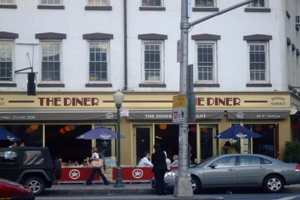 Let's just get this out of the way, I grew up in Jersey (yes, shut up and no, I don't recall anything like Snooki at my high school). Moving on, so as a Jersey girl I pretty much grew up around diners. Diners were your multipurpose please everyone eatery. We went to them after church for breakfast, we went to them after our theatre performances and we hung out at them till the wee hours of the morning when we were in high school ordering cheese fries and driving the poor waitresses to drink. There was a kind of family to the diner, it was always there, always open and had almost anything you could want to eat. So naturally when I passed this gem down in the meatpacking district on 14th and 8th avenue I absolutely had to try it for myself!
While "The Diner" is more of a trendy new york eatery then what we have in the garden state, it keeps true to the diner classics. It has a wide spread menu of almost anything your heart could desire plus a few healthier, trendier bites and most importantly disco fries. They also have a kick-ass Mom's grilled cheese special which is a thick, cheesy grilled cheese paired with some creamy tomato soup and small side salad. That's a must try. They have a pretty solid selection of milkshakes (another diner staple) and they even serve MUD coffee! This is a very handy thing to know because if your down in the area you can stop in for a quick latte to-go.
This time I decided to roll the dice with their homemade veggie burger topped with guacamole and sprouts on an english muffin. I'm somewhat of a professional veggie burger critic now since any vegetarian will tell you that finding a really good one, is no small feat. Safe to say, I have traveled far and wide (around the tristate area) to find a yummy burger made from vegetables!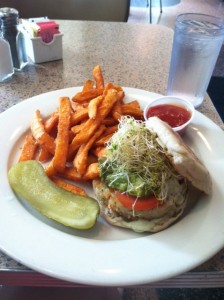 So when I tell you this burger pretty much rocked my socks off, you know you need to try it. Now, I'll get through the honest somewhat disappointing stuff first because the over all experience was fabulous. I personally didn't care for the english muffin, it wasn't toasted, it was just kind of blah and I ate my burger with out it. No harm done. The burger it self was pretty amazing, I couldn't tell exactly what was in it but it seemed like a large amount of vegetables and then some barley and beans (but don't quote me on it). Topping it off with guacamole is just genius and something I am copying at every BBQ I serve veggie burgers at. The guac compliments the burger in a way that ketchup and mustard just can't. As far as the sprouts, well to be honest, I didn't really eat most of them. They don't really do much for me but by all means be healthier than I and chop em down! Of course, I was a bit naughty and got a side of sweet potato fries instead of a side salad. C'mon, I'm at a diner, how could I not sample the fries?! They passed my test with flying colors and were all too quickly devoured.
To wrap it up, the servers were lovely and attentive, the veggie burger was a hit and I will be hitting up "The Diner" plenty more. They have a great selection of healthy choices too, if the veggie burger isn't your thing. Google it, stop in and let me know what you think!
Thanks for reading! I love that Go Sweet and Skinny is your go-to website for healthy living tips, vegan and vegetarian recipes (from everything from appetizers to cupcakes!) and diet advice. I"m committed to helping you get skinny and live the sweet life! Please follow @gosweetnskinny on twitter, like us on Facebook and subscribe to our YouTube channel (youtube.com/user/gosweetandskinny) to keep yourself sweet and skinny 24/7. And as always, feel free to email me at gosweetandskinny@gmail.com and let me know what low fat, healthy recipes you want to see on the site, what diet books your trying and ask any diet questions your little heart desires! I'm here to help you!:)