What I ate today featuring QUINOA
Tonight I wanted something quick, simple and filling for dinner. I found some red quinoa in my cabinet and decided to just make the whole bag and experiment with some quinoa creations. After boiling the water and cooking the quinoa, I divided the batch in half. One for dinner and the other for an experimental lunch/snack!
For the dinner portion, I sautéed up some fresh shrimp with garlic and olive oil and mixed in some fresh spinach.
For my lunch portion, I chopped up half a granny smith apple, half a cup of walnuts and added some dried cranberries. I tossed all of this in about two tablespoons of a balsamic vinaigrette. This is more of a cold salad but you can eat it either way.
Both were delicious and both are quick and easy ways for you to utilize  a wonderful source a iron, protein and fiber in your diet! Go give it a whirl and get your quinoa on! Email me at gosweetandskinny@gmail.com with your favorite way to serve quinoa!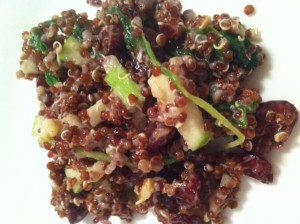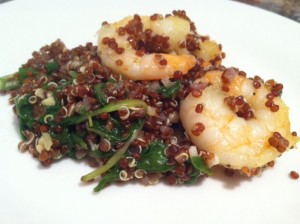 Thanks for watching! I love that Go Sweet and Skinny is your go-to website for healthy living tips, vegan and vegetarian recipes (from everything from appetizers to cupcakes!) and diet advice. I"m committed to helping you get skinny and live the sweet life! Please follow @gosweetnskinny on twitter, like us on Facebook and subscribe to our YouTube channel (youtube.com/user/gosweetandskinny) to keep yourself sweet and skinny 24/7. And as always, feel free to email me at gosweetandskinny@gmail.com and let me know what low fat, healthy recipes you want to see on the site, what diet books your trying and ask any diet questions your little heart desires! I'm here to help you!:)