A VERY SWEET AND SKINNY 2013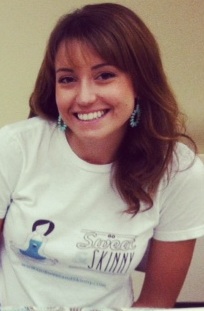 HAPPY NEW YEAR MY GO SWEET AND SKINNY LOVES! I hope you all had a fabulous time wishing 2012 farewell and are filled with excitement for all the possibilities of 2013. I know I certainly am! New Years is probably my favorite time of the year because I reassess my goals, review what I've accomplished in the past year and create a game plan to dominate in the new year! However I can be as guilty of forgetting all my resolutions as 90% of America by the time February rolls around some years but I'm committed to not letting that happen this year and helping you stay on track as well! GoSweetandSkinny will be a place you can check back to for reminders of how to stick to your goals and for new ideas to make your health and fitness goals easy to accomplish and fun to achieve! For starters, I'd like to share with you some of our goals for 2013 because I want you to be able to hold me accountable and perhaps even help contribute to making some of them a reality! Then, stay tuned this week for even more posts about keeping your resolutions in gear and yourself on track for 2013!
What 2013 looks like for GOSWEETANDSKINNY
More voices. Not that mines not amazing or anything but you can look forward to seeing more guest bloggers on the site this year. GSS is all about making a healthy lifestyle easy and obtainable and I think it will be great hearing from all sorts of REAL people on what's working for them, what hasn't worked for them and what you might want to give a whirl! I'll also be reaching out and blogging on other sites so we can get that GSS word out there.
More updates. My apologies for the less than consistent posting this year, I promise you can look forward to more posts each week, more tweets and more tip clips. I know how anxious you get when you don't get your GSS fix!
More media attention. This site is dedicated to demystifying a healthy, fit lifestyle to the masses who are terrified that being in shape simply means suffering on salads for the rest of their dieting lives. However,no matter how much amazing content I put up, it does the masses no good if the masses don't know about it! So this year I'll be reaching out to magazines and newspapers to get the sweet and skinny word out there and help as many people as possible!
I couldn't be more excited and I'm happy to have you going along for the ride with me! If you have any post ideas, want to write a guest blog, have a media connection or just want to share your new years resolutions with me, feel free to email me at gosweetandskinny@gmail.com . I love hearing from you!
Thanks for reading! I love that Go Sweet and Skinny is your go-to website for healthy living tips, vegan and vegetarian recipes (from everything from appetizers to cupcakes!) and diet advice. I"m committed to helping you get skinny and live the sweet life! Please follow @gosweetnskinny on twitter, like us on Facebook and subscribe to our YouTube channel to keep yourself sweet and skinny 24/7. And as always, feel free to email me at gosweetandskinny@gmail.com and let me know what low fat, healthy recipes you want to see on the site, what diet books your trying and ask any diet questions your little heart desires! I'm here to help you!:)