Chocolate Raspberry Vegan Protein Shake
After my morning workout today I was really craving something cold and fruity! So I decided why not use some of the great products I sampled last night at NYC's food fete and whip up something yummy! Combining So Delicious's chocolate coconut milk and Manitoba Harvest's hemp protein powder for a protein packed, craving satisfying, sweet breakfast treat! And the best part is that it takes only minutes to make!
Chocolate Raspberry Protein Shake
4 tbsp of Manitoba Harvest hemp powder
1 cup So Delicious chocolate coconut milk
1 cup frozen raspberries
Half a tray of ice cubes
Blend and enjoy! You can add bananas, strawberries or whatever you'd like as long as your base is the hemp protein and coconut milk, you'll still get a wonderful animal product free dose of protein!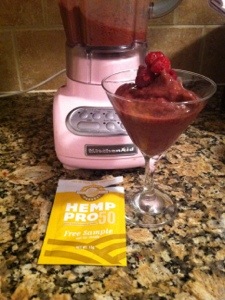 Thanks for reading! I love that Go Sweet and Skinny is your go-to website for healthy living tips, vegan, vegetarian and low fat recipes and diet advice. Let me know what healthy recipes you want to see on the site and ask any questions your may have. I'm here to help!