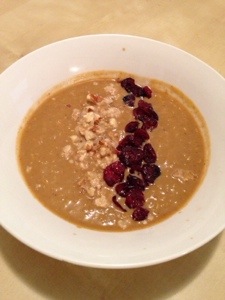 You all know how much I love my quinoa and of course, how much I love FALL flavors, so it's no surprise I whipped up this creation this morning! This vegan gluten free breakfast is packed with my perfect protein, quinoa and some delicious fall foods to keep you seasonally skinny and satisfied!
FALL QUINOA 'OATMEAL'
1/2 cup quinoa
1/2 cup almond milk
1 tbsp brown sugar
1/3 cup organic pumpkin purée
Heat together in small saucepan on medium heat till quinoa has cooked and liquid has reduced.
Garnish:
3 tbsp crushed walnuts
2 tbsp of dried cranberries