Gluten Free Hot Cocoa Cupcakes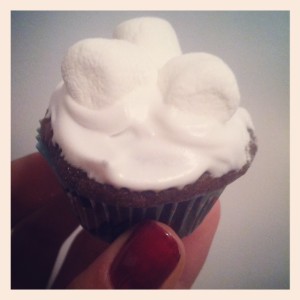 If you've been keeping up with my youtube channel www.youtube.com/user/gosweetandskinny you'll notice that I made these for my CBS baking show tape and they came out fabulous! I also got a gluten free request recently so I wanted to post a sample gluten free cupcake! It was really easy for this cupcake because I simply used garbanzo been flour which is gluten free and I was actually much happier with the results than when I just by plain "gluten free flour" at the health food store. I thought these we're adorable because we've gotten quite the cold spell in NYC the past couple weeks and I've got hot chocolate on the brain! Slight disclaimer about the picture, marshmallows tend to not be vegan unless you actually by specifically vegan marshmallows! 
GLUTEN FREE VEGAN HOT COCOA CUPCAKES!
2 cups of Garbanzo Bean Gluten Free Flour
3/4 cup of unsweetened cocoa powder  (or your favorite vegan hot choc!)
1/2 cup cane sugar
2 tsp of baking powder
2 tsp of baking soda
1 tsp salt
1/2 tsp cinnamon ( I also like to add 1/2 tsp of nutmeg or pumpkin pie spice to give it a little extra kick)
1/2 cup vegetable oil
1/2 cup agave
4 oz of unsweetened apple sauce
2 cups of chocolate soy milk (which you'll add 2 tsp of apple cider vinegar to)
1 tbs of vanilla extract and 1 tsp of almond extract (optional)
Pre heat your oven to 350 and stick your cupcake liners in your pans. I always bake using mini cupcake pans because I love the portions of the tiny cupcakes!  Next, add your apple cider vinegar to your chocolate soy milk in a separate  bowl/measuring cup and combine all your dry ingredients in your bowl or mixer. Now, add oil, agave, apple sauce and extracts to the dry ingredients. Pour you slightly curdled soy milk in to the bowl and proceed to mix for about 30 second in a stand mixer or a couple minutes by hand till the mixture is the consistency of regular cake batter but not a second longer! You don't want to over mix if possible. At this point, I have a mini sized ice cream scooper that I use to evenly scoop the batter into the cupcake holders but a tablespoon will work as well.  Watch them while they're baking – depending on their size will depend how long they need to stay in. Use a toothpick if your unsure if it's done!
Now for the icing! While they're cooling, check out my favorite butter cream recipe here — > http://gosweetandskinny.com/?p=348. As I said before, marshmallows are a great little touch if your not concerned about it being vegan or if you can get your hands on vegan marshmallows but if not, I like to just dust a little cocoa powder over the top of the icing. For the baking show video I even piped the icing to look like a dollop of whipped cream! Have fun with it!
 
 
 
 
<em>Thanks for reading! I love that Go Sweet and Skinny is your go-to website for healthy living tips, vegan and vegetarian recipes (from everything from appetizers to cupcakes!) and diet advice. I"m committed to helping you get skinny and live the sweet life! Please follow @gosweetnskinny on twitter, like us on Facebook and subscribe to our YouTube channel to keep yourself sweet and skinny 24/7. And as always, feel free to email me at gosweetandskinny@gmail.com and let me know what low fat, healthy recipes you want to see on the site, what diet books your trying and ask any diet questions your little heart desires! I'm here to help you! :)</em>