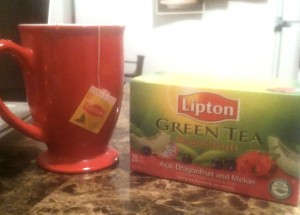 Now, I don't usually do specific product recommendations and I promise you Lipton is not paying me for this lovely promotion but after being sick for the past couple days and going through boxes of different green teas, I really felt I had to give this one a shout out. I'm tea addict, I could go on and on about the different loose leave teas I keep in the house but I love that I picked up this Lipton's Green Tea with acai, dragon fruit and melon in duane reade along with my other 'get well' supplies because that means you can too! This tea tastes so delicious that I feel like I'm drinking a gummy bear! It's so light and fruity that it was easy to drink cup after cup of it.
So I just had to share it with all you amateur tea drinkers trying to get your four cups a day in, Lipton's Green Tea with super fruits can be a great way to help ween yourself on to the green stuff! Drinking green tea everyday is so much healthier for you than coffee and with yummy green tea as accessible as your local duane reade or super market there are no excuses to not start incorporating it into your diet today!
Thanks for reading! I love that Go Sweet and Skinny is your go-to website for healthy living tips, vegan and vegetarian recipes (from everything from appetizers to cupcakes!) and diet advice. I"m committed to helping you get skinny and live the sweet life! Please follow @gosweetnskinny on twitter, like us on Facebook and subscribe to our YouTube channel to keep yourself sweet and skinny 24/7. And as always, feel free to email me at gosweetandskinny@gmail.com and let me know what low fat, healthy recipes you want to see on the site, what diet books your trying and ask any diet questions your little heart desires! I'm here to help you!