Indian Style Butternut Squash purée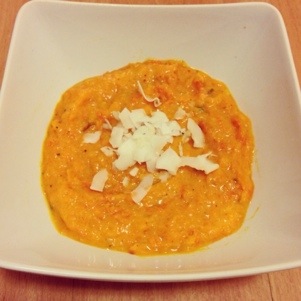 There is absolutely NOTHING I love more than fall flavors but recently, after a trip to L.A., I started falling hard for Indian food! Dare I say I crave it endlessly?!! So naturally when I was in the kitchen thinking of some healthy, delicious thanksgiving sides I couldn't help but put a little Indian spin on an old favorite! Easy to make and absolutely delicious, I highly recommend trying this recipe out!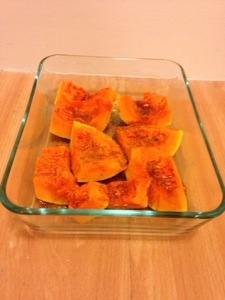 Indian Style Butternut Squash
1 butternut squash
2 tbsp of coconut oil
2 tsp of tumeric
2 tsp of curry powder
2 tsp of gram marsala
1 can of light coconut milk
A handful of unsweetened coconut flakes for garnish
Preheat your oven to 375 degrees, skin and chop your squash into manageable pieces. Place the squash pieces in a glass baking dish(Pyrex) and drizzle coconut oil (also can use olive oil) evenly across the pieces. Sprinkle your tumeric, curry and gram Marsala seasonings to your discretion and put in the oven for 45 minutes. Once they are finished baking, either place them in a blender/food processor or just place them in a bowl to be mashed by hand. Slowly add in 1/4 cup of coconut milk and mash. Continue adding another 1/4 cup till you reach your desired consistency! Scoop out and serve with a sprinkle of coconut shreds on top!