Japanese eggplant over quinoa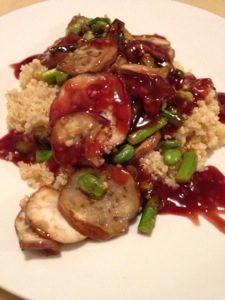 This whole meal was inspired by a Japanese eggplant that was given to me by a friend I work with! I love eggplant and I couldn't wait to make something delicious with it. It turned out surprisingly delicious considering I mostly just used whatever I had laying around in the kitchen and lucky for me I had enough left over to eat it again for lunch! Give a whirl yourself..
JAPANESE EGGPLANT OVER QUINOA
1/2 cup quinoa
1 cup water/veggie broth
place in a saucepan and stir while boiling till all the liquid has evaporated. Season as needed and set aside.
1 Japanese eggplant
1 bundle of asparagus
1 package of edamame
1/4 cup chopped garlic
1/4 cup chopped ginger
2 or 3 tbsp of ginger infused olive oil
2 cups red table wine
1 cup plum sauce
1/4 cup chopped shallots
1 tbsp of olive oil
First, thinly slice your eggplant and lay it out on paper towels to help absorb some of it's natural water. Chop asparagus and add to a large frying pan with ginger infused olive oil, half your garlic and half your ginger. Add in the shelled edamame and finally your eggplant slices. Keep the veggies moving around and the heat on low-medium while you work on the sauce.
For the sauce, in a separate sauce pan, put your chopped shallots, the leftover ginger and garlic, and olive oil and sautée. After they have cooked for a bit, add in your plum sauce and red wine and let it reduce on medium to low heat. Sauce is ready when it has a medium thickness.
Assemble your dish by placing quinoa on the plate first, then veggies and top of with a drizzle of your red wine sauce! Enjoy!