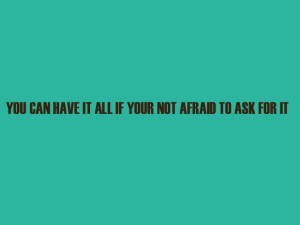 Mondays like today, I need this motivation as much as you probably do. Here in New York City it is dreary and gray with leftover snow piles cluttering the sidewalks in various shades of charcoal. Getting out of bed is not easy but somehow most of us have managed to do it.  This week's motivation comes from a quote I've been reflecting a lot on lately. Well actually the exact quote I had been thinking of was "you get in life what you think you deserve"  but this is extremely similar I believe. You can have it all if your not afraid to ask for it!  Say that to yourself a couple times in a row and I think some things in your life may immediately start rearing their ugly heads at you. I'd even write it on a sticky note and put it by your desk or your mirror so that you can see it day after day. Are you asking for the things you want it your life?! I mean, really, really, literally asking.  We only have a short time on this planet and we shouldn't waste a second of it not asking for what we want! Everything in our life is a reflection of what we are asking for right now, in relationships, in careers and in your BODY! Don't accept anything less than you deserve! Now you can take this and run it through all those areas of your life but for the sake of brevity and because this website is about a healthy body, let's focus on your health.
Are you demanding a healthy, fit and vibrant body? Or are you settling for less than you deserve? I hope this is not too "out there" for you guys but I truly believe if you can grasp this concept, you can transform your life. You can have the life, love and body of your dreams! If you put out into the universe (or google) the question "how can I eat for more energy" or " how can I exercise to thin my thighs" etc, etc, you will get an answer! If your looking for ways to be more active, trust that they will appear, you'll start noticing more active options for dates or maybe decide to start walking to your coworkers desk instead of sending them a short email. If you want a meeting with someone who you think is out of your reach (I use italics because they are just a person and this is all in your head) even the more reason to go ahead and ASK for it. This monday, I'm reflecting on what I want in my life and then seeing what kind of "asking" needs to be going on. I feel motivated and strong to take on this week and hope you do as well! 

Thanks for reading! I love that Go Sweet and Skinny is your go-to website for healthy living tips, vegan and vegetarian recipes (from everything from appetizers to cupcakes!) and diet advice. I"m committed to helping you get skinny and live the sweet life! Please follow @gosweetnskinny on twitter, like us on Facebook and subscribe to our YouTube channel to keep yourself sweet and skinny 24/7. And as always, feel free to email me at gosweetandskinny@gmail.com and let me know what low fat, healthy recipes you want to see on the site, what diet books your trying and ask any diet questions your little heart desires! I'm here to help you!