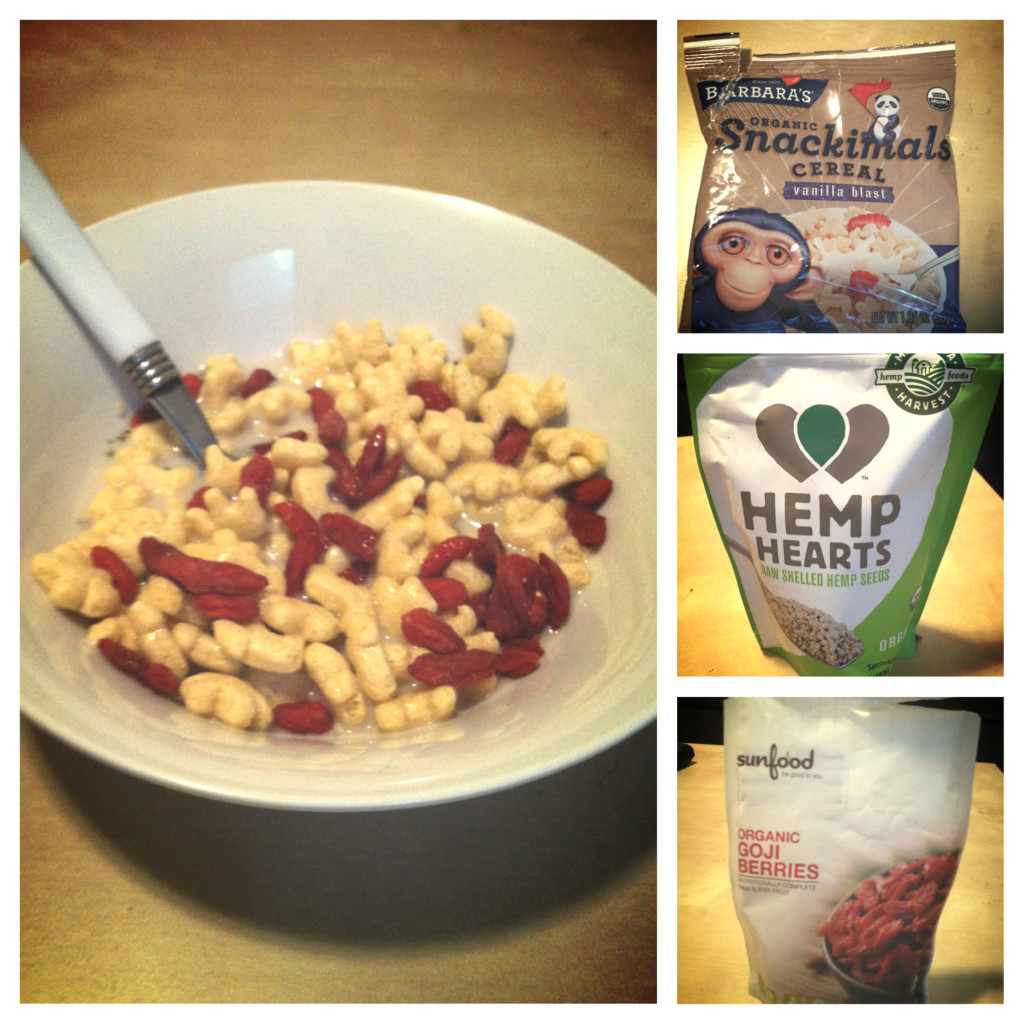 I almost didn't think this worthy of a post, and then I realized this is EXACTLY the kind of post you guys want!! Sure, recipes are fun and I'm sure those cupcake pictures get your tummy grumbling but the best way to start yourself on the road to healthy, happy, hotness is to make small changes to your normal routine everyday! So if we can all get honest a second, who has time to make an elaborate breakfast every morning?! Don't get me wrong, I do love my quinoa or chia seed pancakes but on the average day that's just not realistic for me. Cereal is so easy! However, talk to me on the norm and you will know I'm not a huge cereal fan. This is because MOST but not all cereals are loaded with sugar and refined carbs and have very little nutritional value. However, the lovely folks at Barbara's (who make the cinnamon puffin cereal I'm seriously in love with) gave me a sample of their new healthy kiddie cereals! Yeah, their pretty awesome and I totally love that their helping children eat better and not even realize it. So this morning I gave their "snackimals" a whirl with some almond milk and made it in to an adult protein, omega and antioxidant packed breakfast by sprinkling on some of my favorite super foods! Hemp hearts and goji berries are both delicious and great for you and best of all, they take no time to prepare! Great stuff to have around the house to kick any meal a notch up.
Manitoba Harvest Hemp Hearts
Just one serving of these in your cereal (oatmeal, yogurt, etc) has 10 grams of Omegas 3 & 6 and 10g of protein! That's one hell of a pump up if you ask me!
Sunfood Organic Goji Berries
These raw super fruits are loaded with antioxidants to keep you healthy and beautiful! Not to mention they contain 18 amino acids and all 8 essential amino acids! Can you say vegetarian gold mine?
So there you have it. Literally took me two extra minutes if that to sprinkle these delicious goodies on my cereal and give it a healthy super punch to start my day off right!