SHOE TALK with LeanGirlsClub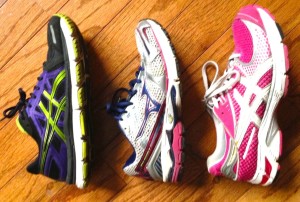 First, I'd like to thank Cassandra for letting me guest blog today. I love reading Go Sweet and Skinny and can't wait to try her recipes. Being a working woman, I find myself making the same ol' things and often get bored. It's important to try new recipes so I don't resort to junk food!
Are you a shoe lover? I love me a good pair of shoes. Stilettos, platforms, wedges, sandals, and boots. Usually I select shoes based on the aesthetic: the color, the height of the heel, embellishments, what outfits it can accompany….
That's not the approach we should have with running shoes. All shoes were not created equal. Did you know that most running injuries are from ill-fitting shoes? Like bras, we need to be fitted for a good running shoe. Your local running store, not athletic store, will do that for you for free. A representative will watch you run on the treadmill and analyze your gait. Depending on the results and your fitness level, s/he will recommend a stability shoe or a neutral shoe. They'll come to you with several options and help you find the best shoe. Sorry, you won't get to choose your shoe based on your favorite colors…the shoe will pick you. How will you know? You just will. It'll feel heavenly and feel like they were molded for your feet. The shoe will make you run stronger, faster, and lighter. A good shoe will get your butt off the coach and moving.
And if your running store is a GOOD running store, they'll have a great return policy and let you return the shoes if it doesn't fit right…even if you've run in them. I personally love Jack Rabbits, Paragon, and The New York Running Company at The Time Warner Center.
For more details on how to pick a great shoe, check out this infograph:
Check out REI's wide selection of running shoes
For more tips, check out www.leangirlsclub.com or follow @gracekelle