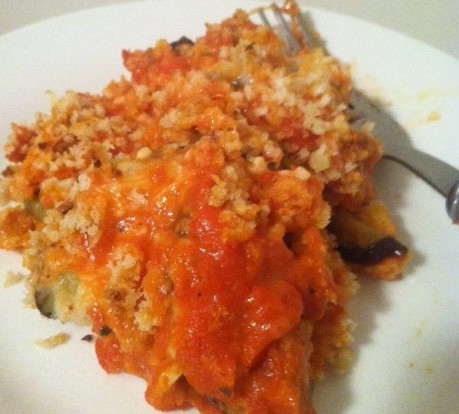 Eggplant parmigiana is one of my favorite earthly delights. It's such a rich, decadent vegetarian comfort food so naturally I was craving some this past week when temperatures in NY made it feel more like Alaska. Still, I had to find a way to make it  skinny style with out losing any of it's amazingness.
SKINNY EGGPLANT PARMIGIANA 
2 mini eggplants or 1 lg if you prefer
1 cup of panko bread crumbs
1/2 cup of olive oil
3 tbsps of minced garlic
1 bag of low fat shredded mozzarella or veggie mozzarella (vegan substitute)
1 jar of low sodium, natural, organic tomato sauce (or if you make your own – even better!)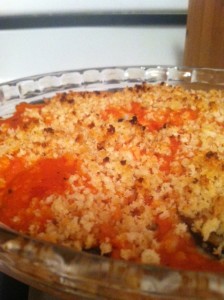 Preheat your oven to 375, get out a bake sheet or two and your pyrex and lay out two lines of paper towels on your table. Slice your eggplant as thinly as possibly without it falling apart (or you hurting yourself) and lay it out on your paper towel. Place another paper towel over your finished slices and let the paper towels absorb the excess moisture of the eggplant, you'll notice there's a lot! Now I personally  LOVE garlic and olive oil, but if you don't and your not vegan, you can replace this with an egg like you would when normally breading stuff. So in one bowl I put my panko bread crumbs (which are lighter, fluffier and better for you than normal bread crumbs) and in a second bowl I mix my olive oil and minced garlic. I lightly dip the eggplant slice in the oil mix and then the breadcrumbs and then place on a bake sheet. If your doing this with the oil instead of the egg, do not worry, all the breadcrumbs do NOT stick, it's not you and it's fine! Place them all on your sheet and stick it in the oven for a couple minutes to soften the eggplant.
While that's in the oven, spread your sauce on the bottom of the pyrex dish (or whatever dish your using). Once your eggplant's been in the oven for 5 minutes you can take it out and make a layer on top of the sauce. Now sprinkle some shredded mozzarella, layer with eggplant, sauce then mozzarella and onwards till you run out of dish or eggplant! I like to top it off with sauce, a sprinkle of whatever breadcrumbs might be left from dipping and a sprinkle of cheese. I know it can seem like a bit of an undertaking but trust me it's delicious and so much better for you than classic eggplant parmigiana – you'll never want to go back! Plus if you live alone like me, it'll feed you for a week!
 
 
 
 
<em>Thanks for reading! I love that Go Sweet and Skinny is your go-to website for healthy living tips, vegan and vegetarian recipes (from everything from appetizers to cupcakes!) and diet advice. I"m committed to helping you get skinny and live the sweet life! Please follow @gosweetnskinny on twitter, like us on Facebook and subscribe to our YouTube channel to keep yourself sweet and skinny 24/7. And as always, feel free to email me at gosweetandskinny@gmail.com and let me know what low fat, healthy recipes you want to see on the site, what diet books your trying and ask any diet questions your little heart desires! I'm here to help you! :)</em>