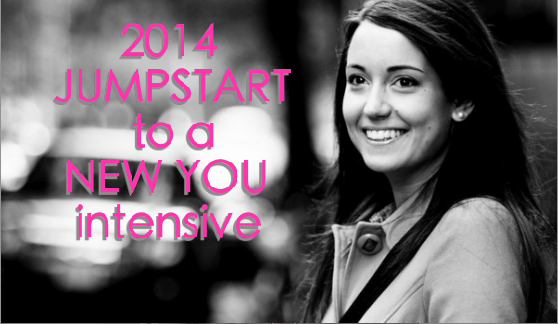 Are you READY to get out of your own way and                                  FINALLY start having the body and life you want?!
                            Do you want to start 2014 off right and make sure it's                          your  HAPPIEST and HEALTHIEST year yet?!
Maybe you've tried countless diets, detoxes and cleanses and this year you're ready to get REAL. You want to STOP stressing so much about food and weight and start loving your body! Okay, maybe that involves losing a few pounds as well, THAT'S OKAY! You can lose weight naturally by learning how to eat right for your body and finding out what foods work for YOU.
My mission with my "2014 Jumpstart to a NEW YOU intensives" is to help support you in finding the actionable steps to make your healthy New Year's resolutions STICK this year.
Whether that includes losing 10lbs, eating less processed foods, going vegan, learning to meditate or just trying a juice cleanse for the first time, it doesn't matter! Decide what YOU want to shift this year! What are YOU committed to making happen? And then let me help you! Email me ASAP at Cassandra@GoSweetandSkinny.com to schedule a 2hr skype or in person meeting, if your in the NY/NJ area.
Here's what you'll get from our TWO – HOUR INTENSIVE SESSION: – specific ACTIONABLE goals for the next month – personalized recipes + guidance for YOUR goal – a sample week long meal plan (if appropriate to your goal) – personalized advice and tools on HOW to stick to your plan – 3 weeks of email support following our sessions – a summary of our session with key points – access to our PRIVATE 2014 Jumpstart facebook group – where you can support each other with your goals as well as get more personal insights from me!
Are you ready to invest in YOURSELF this year? Why not let 2014 be the year you FINALLY start looking and feeling AH-MAAZING!?!
It's ONLY $150 for a limited time
as my personal gift to YOU for being such an amazing supporter this year! On January 2nd it will go up to $200 when you can see me on The Taste on ABC at 8pm and the masses will have access to it.
PLEASE, I urge you to book your session NOW, do not hesitate, these WILL book up and I do not want any of you to miss out!
Email me today! I can't wait to help support you in making 2014 your sweet and skinniest year yet!
cassandra@gosweetandskinny.com