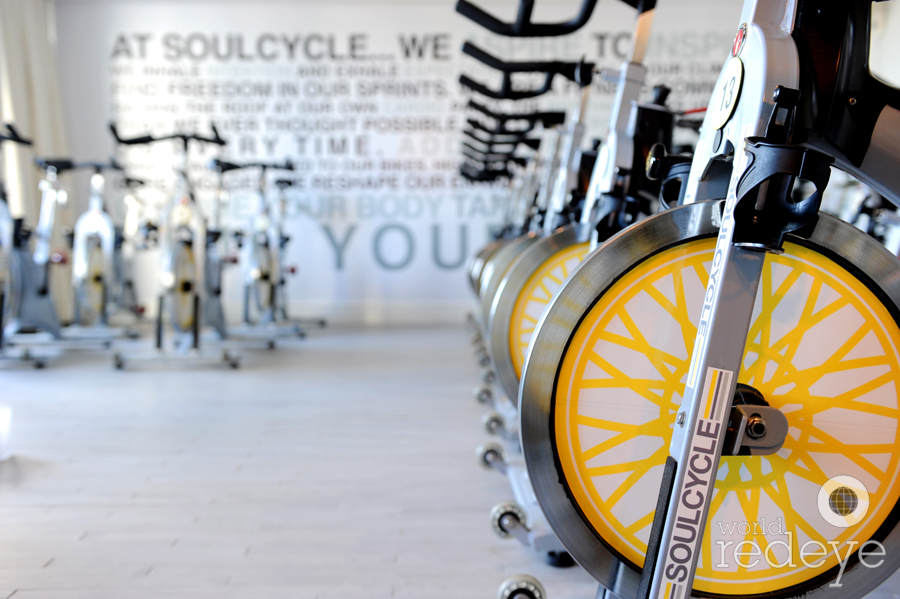 Can you believe I was scared to go to SOULCYCLE!? Well, not scared like something terrible was going to happen if I went but I felt a little intimidated and didn't want to make a fool of myself. Literally, everyone and their mother had told me to go, that I would love it but I had 'group fitness anxiety'. I'm a yogi and dancer by nature, I specialize is being uber flexible and memorizing routines. Pilates? I'm there, Hip hop? Count me in, Spinning?! Eh, no thank you! And while I do encourage you guys to find an activity you LOVE that you enjoy doing and stick to that to start getting you moving, sometimes it's fun and exhilarating to step outside your  comfort zone and dive into the latest fitness craze. In honor of #FearlessFebruary, I did just that! I grabbed a girlfriend and went to SOULCYCLE and….
IT WAS FUN!!!
Seriously, I had the best time and would probably do it every day if it wasn't so pricey! The music was great, the basic moves spoke to the dancer in me and made me feel at home. However, the best experience was when the lights were dim, the music was loud, our instructor told us to close are eyes and just give over to the music. It was a very different type of meditation than usual for me and I totally loved it. I felt sweaty but invigorated and alive afterward. Big thanks to my girl Alyssa for accompanying me and my client Lauren for telling me how obsessed she was and pushing me to go! You ladies rock and now you've got me addicted!

So what exactly is #FearlessFebruary? 
February is one of my favorite months! It's my birthday (on the 24th) and Valentine's Day – a double whamie of love and fun! I've also had an incredible start to 2014 and I'm ready to break some boundaries, bust through some blocks and start 27 fearless and fabulous! So this month I am pushing myself out of my comfort zone everyday! I have made a promise to myself (and my streaks app haha) to do something that scares me EVERY DAY this month. I'll be sharing ones like this SOULCYCLE post, which I feel will particularly connect with you guys but feel free to tweet at me @cassandrabodzak and ask me what my #fearlessfebruary act was that day – I'd love to share! They have ranged so far from anything like putting myself out of my comfort zone physically by trying harder classes, to attending events solo and introducing myself to new people (always a scary task!) to contacting people who inspire and intimidate me. I'm SUPER EXCITED to share with you tomorrow my #FearlessFebruary Instagram Contest – be sure to follow me and look out for the announcement tomorrow morning!