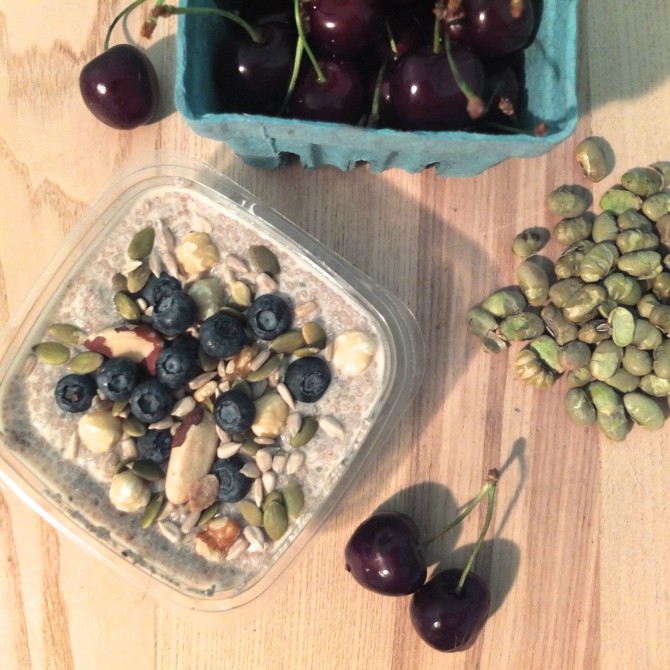 Happy, Healthy Plane Food
Whoever said that plane food was gross clearly never traveled with me. In all seriousness, despite some attempts (more in some airports than others) to make plane food more appetizing and slightly more health conscious, it's still best to B.Y.O.P.F. – that's right Bring Your Own Plane Food! I had a super early flight this morning to go out to Tahoe, CA for Wanderlust Squaw Mountain and I was not about to settle for some refined carb-loaded breakfast from Au Bon Pain for breakfast, so I packed my own. I'm writing this in the airport right now and I can already feel the envious stares as people watch me nosh on my fresh sweet cherries from the farmer's market.
So here's how I pack healthy plane food for a flight:
1. I think about what I'll likely be in the mood for depending on the time of day I'm flying. This may seem obvious but the easiest way to thwart your good efforts is to bring healthy plane food you don't actually want to eat. Trust me, I've done it, then you end up spending money on over-priced mediocre airport fare and you're beautiful healthy plane food goes to waste. A sad story. So make something you're excited about eating! In my case, I made my vanilla spice chia seed pudding topped with blueberries, brazil nuts, macadamia nuts, pumpkin seeds and sunflower seeds. I'm on a huge chia seed pudding for breakfast kick lately so not only was it easy to prepare last night but it was a great healthy plane food choice!
2. Bring sweet & savory SNACKS! This is one of those times where I highly recommend slightly overpacking. You want to cover your bases so that when you are a couple hours into the flight and they walk around giving out free potato chips, you have something even more appetizing and good for you on hand! Today I packed sweet cherries that I picked up yesterday from the farmer's market to satisfy my sweet tooth and dry roasted edamame with wasabi as my savory. The cherries are perfect for pre-boarding when my appetite hasn't quite kicked in yet but I feel tempted to nosh since everyone around me is eating breakfast as they wait for their flights. The edamame is packed with protein and little spicy so that in the final hours of my flight, after I've consumed my chia seed pudding, I have something to snack on to hold me over till I get lunch.
3. HYDRATE. Regardless of what you choose for your own personal healthy plane food, the number one traveling healthy tip I can give you is to always stay hydrated. Spend the five dollars or whatever crazy price they are charging for the water bottle at the gate or just be a pain in the bum to the flight attendants like me and ask them for water every time they pass by. I'm probably not someone you'd want to sit next to on a plane because between guzzling water and eating my delicious healthy plane, I get up to use the lavatories quite frequently. But hey, I arrive to my destination feeling great, looking good (cause my skin isn't dehydrated and funky since I've properly hydrated and been eating good for me goodies!) and ready to take on my next adventure!
I'd love to hear from you: what's your favorite HEALTHY PLANE FOOD options!? Comment below and let's share ideas! xo!