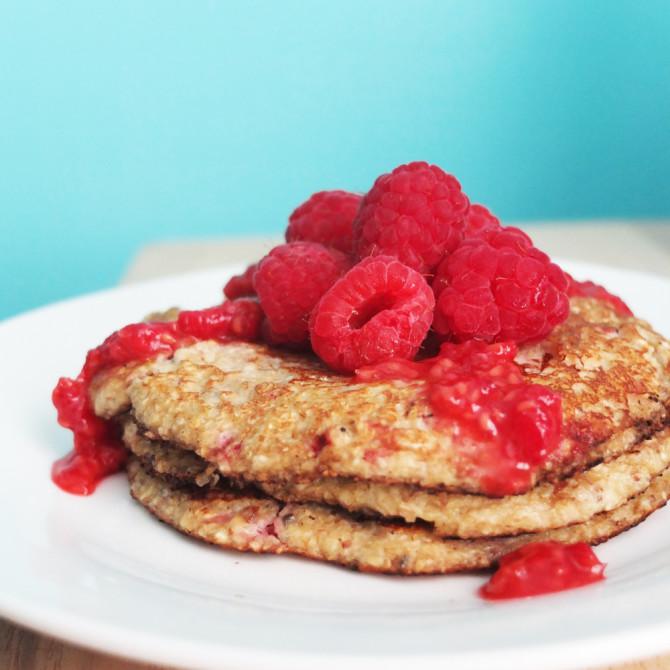 Healthy Sugar Free Raspberry Chia Seed Protein Pancakes
After running 13.1 miles yesterday, I was craving a hearty, filling and treat-worthy breakfast. After messing around with some ingredients I had in the kitchen, I whipped up this super easy to make recipe for healthy, raspberry chia seed pancakes that are not only sugar free, they are also PACKED with protein! Woo Hoo! Who says a girl can't have everything? Enjoy this recipe and feel free to add a little maple syrup or date syrup to sweeten up if you are not "I quit sugar"-ing with me.
healthy sugar free raspberry chia seed protein pancakes
2 tbsp of non fat plain greek yogurt
1/4 cup oat bran
1 organic hormone free egg
2 tsp of flax seed
2 tsp chia seed
a dash of vanilla extract
a dash of cinnamon
6 or 7 raspberries gently broken up (by hand ) into small pieces (and then extra for on top!)
Add everything except the raspberries and mix it up in a small bowl. Heat your pan on low setting and spray with your favorite cooking spray or use a little coconut oil. Add in raspberries last and gently fold them in. Batter should make three 5-6in pancakes (perfect single serving!), feel free to double or triple it when eating with others. I topped mine with some mashed raspberries and a couple whole ones on top!
Great thing about this recipe is that it's not only easy, quick and contains minimal ingredients but it's sugar free and has tons of protein thanks to the egg and non fat greek yogurt. Toss in the flaxseed meal and chia seed and we're also loading up on heart healthy omega-3s while getting a nice dose of fiber with the oat bran! It's GOOD and good FOR YOU!