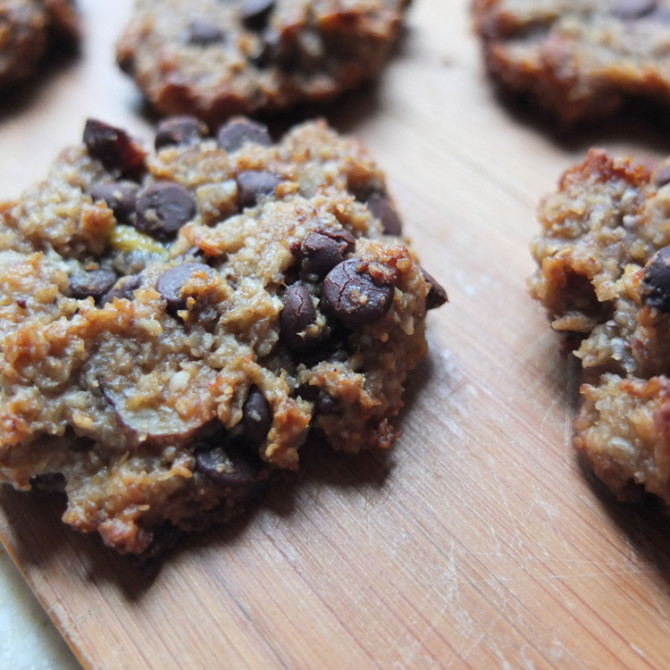 Healthy Vegan Gluten Free Chocolate Chip Hazelnut Cookies
For those of you who didn't get this little baby of a recipe a month or so back, sign up for my healthy recipes and happy living inspiration above so that you don't miss the next one! I send out exclusive, incredibly delicious recipes to my newsletter subscribers sometimes months before they actually make it to the website. I mean, you could have been blissfully eating these vegan, gluten free, healthy chocolate chip hazelnut cookies that are like a little bite out of heaven MONTHS ago! Tsk,Tsk.
Anyways, I couldn't hold out any longer. They are too delicious, super easy to make and perfect for any 'ole night of the week to not share. Give 'em a whirl, get creative and tag me on Facebook [facebook.com/gosweetandskinny] or insta when you make them! [ @gosweetandskinny] Can't wait to see your goodies!
VEGAN GLUTEN FREE CHOCOLATE CHIP HAZELNUT HEAVEN COOKIES

1 1/2 cups of GF oat bran
2 tbsp of cashew butter (can use almond or hazelnut but I like the creamy sweetness that cash abutter naturally has)
2 tbsp of chia oil ( can also use coconut but I like the extra omega 3 boost of chia)
1 large organic banana
1/2 cup of vegan chocolate chips
1/2 cup sliced hazelnuts
1 tsp of cinnamon
2 flax "eggs"

Preheat your oven to 375 degrees. Toss it all in your mixer. Lightly grease your sheet pan with coconut oil and use a mini ice cream scooper or tsp to ration the dough. It will be a little bit stickier than normal cookie dough but should be manageable. Let the cookies cook for 5-10 minutes depending on your oven. Watch them and pull them out when the edges are becoming golden brown. ENJOY!