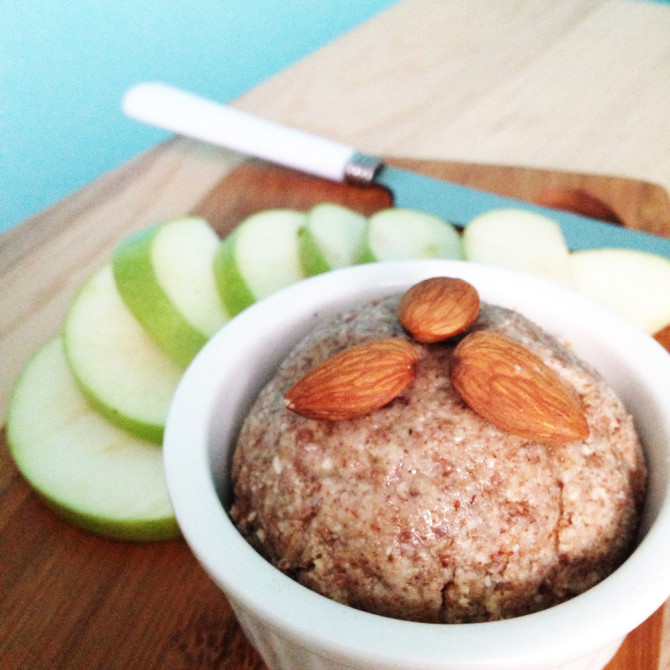 Currently, I'm training for the More/Fitness Magazine half-marathon in NYC as well as recipe testing for my upcoming Sweet + Skinny Summer Detox. I have been on a mission to find some delicious, protein packed foods that are light Senough to keep you slim but substantial enough to power you through a long sweat session. It's safe to say almond butter has become my new best friend!
I scoop it into my smoothies, add it to my oatmeal and love having it on some sliced green apples before my morning run. It's packed with protein and good for you fats that my body needs to keep up with all my training. Almond butter satiates me and gives me a great, clean energy for the day. You can count on it being all over the recipes for my new detox and upcoming blog posts.
To make things even more exciting, I decided to go out on a limb and make it at home with my new Samson Juice Extractor. I had seen in the manual that it was possible but hadn't really thought to give it a go till recently when my almond butter habit had been getting a little expensive. To my surprise, making homemade almond butter was incredibly easy with my Samson and it came out so delicious that I had to share the recipe with you!
Sweet + Skinny Raw Homemade Almond Butter
If you're using a Samson Juice Extractor like mine, simply switch to the mincing head from the juicing one. Turn it on and toss your almonds in the head at the top. (I'm sure this would be possible in a food processor if you don't have a juicer as fancy as mine – definitely don't try it on a regular juicer, you will break it!)
¾ cup of raw almonds
2 tsps of coconut oil
1 tsp of pure vanilla extract
1 tsp of pumpkin spice
Put your almonds through and you should have a slightly dry ground almond paste. Mix in the rest of your ingredients and feel free to knead it with your hands like sugar cookie dough. It will be slightly drier than the stuff you buy in a jar, if you prefer it a little creamier feel free to add additional coconut oil to your liking. Macadamia nut oil also works well if you are not a fan of the coconut.