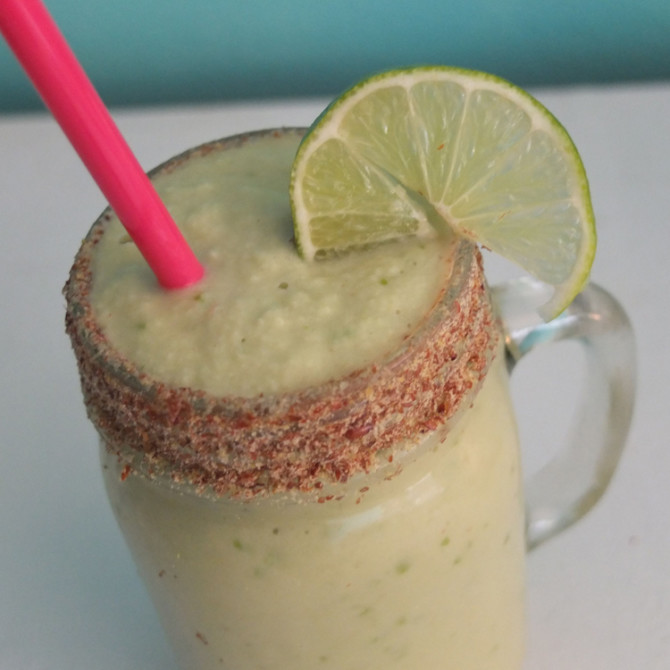 Key Lime Pie Smoothie + #SharetheSilk Contest
Check out this tropical beauty I made for the #ShareTheSilk contest with Shape Magazine! Key lime pie is one of my favorite indulgences so why not have it for breakfast in a nutrient rich smoothie?! This smoothie is so simple and delicious, it should be sinful. Enjoy my little slice of heaven and read below for all the details on how you can participate in the #ShareTheSilk contest with Shape Magazine!
Key Lime Pie Smoothie
1 avocado 1 green apple chopped 2 limes (with out the skin) 2 limes just for juice (just squeeze 'em!) 1 tsp of vanilla extract 1 tbsp of cashew butter 1 cup of Silk Vanilla Soy milk ( any nut milk can be used) 2 tbsps of flaxseed meal ( for the "crust" rim) In a blender or vitamin combine all of the above minus the flax seed meal. Take one of your used limes from juicing and rub it around the top of your mason jar or glass and then roll the rim in the flaxseed meal for the faux graham cracker crust. Add a fun straw and enjoy!
* post your photo of your favorite smoothie recipe or healthy food with Silk and tag @shape_magazine @lovemysilk and #sharethesilk on instagram * tag me @gosweetandskinny for a chance for me to #regram you or feature on the blog as well!

You can win my book Juicespiration, Candice Kumai's book Clean Green Drinks on a new Kindle Fire as well as 6 months of nutritional coaching! More details here.