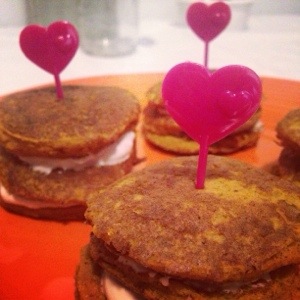 It's national pancake day!! Why not make yours BOTH delicious and healthy for you by using quinoa as the flour! Quinoa is a superfood loaded with protein, iron and tons of nutrients you won't find in typical pancake flour. I do warm that this recipe requires a food processor and you won't get that "pancake-like" texture with out it.
Pumpkin Quinoa Pancakes
1/2 cup quinoa
1 cup water
1/2 cup pumpkin purée
2 tbsp of pumpkin pie spice
1 egg or a flaxseed 'egg' substitute
1 tbsp coconut oil
Filling:
Tofutti cream cheese
2 tbsp date syrup
A sprinkle of nutmeg, cinnamon
A touch of vanilla extract
First cook your quinoa: place half a cup of quinoa and a full cup of water into a soup pan, let the water come to a boil and stir till only quinoa is left in then pan and all water has evaporated.
Now place drained and rinsed quinoa into your food processor with all the other ingredients at the top and pulse till you get a pancake like batter consistency.
In a frying pan on the stove place a tiny bit of coconut butter and scoop a tbsp of batter to get the cute little stacks shown in the picture. Flip when the middle bubbles and edges start to crisp.
For the filling, simply whip up the tofutti and date syrup and the. Season to taste! Spread in between pancakes and drizzles with maple syrup of desired! These are adorable, delicious and so satisfying!