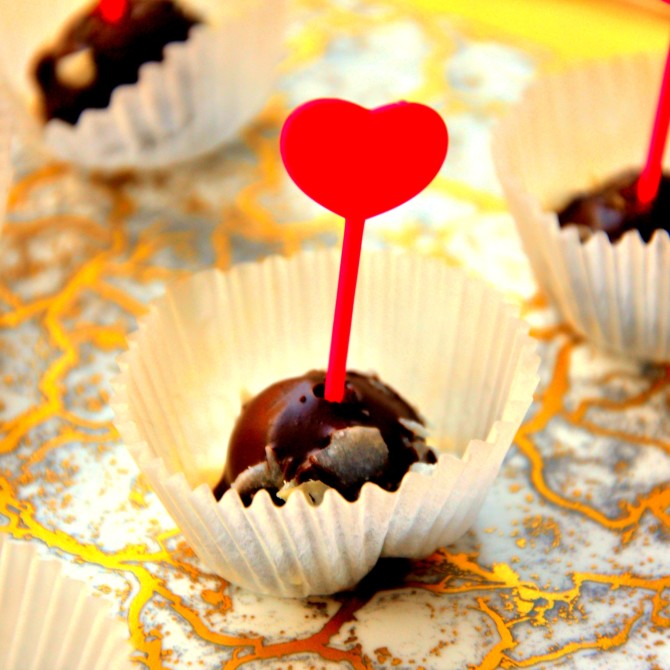 Vegan Chocolate "Caramel" Truffles
Valentine's Day is just around the corner and whether you are sharing it with your significant other or best friends, who doesn't like to make a sweet little chocolately something?! These Vegan Chocolate "Caramel" Truffles will knock your socks off and more importantly, your guests socks off when they find out how healthy they actually are for them. Don't be scared, they are super easy to make too!
Vegan Chocolate "Caramel" Truffles
13 oz container of dates (standard package)
1 bag of vegan chocolate chips (I use Enjoy Life)
2 tables spoons of almond butter
1 tbsp of coconut oil
Optional: unsweetened coconut flakes or crushed cashews for topping
In a food processor, combine all your dates with 2 tablespoons of almond butter. Pulse till the dates are becoming one with the almond butter and you see that caramel consistency. Take your faux caramel out of the processor, pack it in a nice little chunk and put it in the freezer for 5 minutes. I usually clean the food processor while it's chilling and by the time I'm done, they're ready! So go get them out, and start rolling little baby balls and placing them on a plate or baking sheet with parchment paper. Put them back in the freezer when you're all done, so they will stay firm while we're getting the chocolate ready!
For the chocolate, in a small saucepan add approx. half the bag and tbsp of coconut oil.  You can stir this constantly on a very low heat or I prefer to double boil it, which just means that I put a small soup pan of boiling water on the stove and THEN place my saucepan with chocolate on top of that. This helps the chocolate melt properly without burning as easily as it does on the stove. Either way, stir that chocolate till it's almost completely melted and turn off the burner. Let the final little chunks melt themselves.
Now the fun part! Go get your frozen balls out of the freezer and stick toothpicks in them so that you can easily dip them in your chocolate. I used really pretty festive ones for V-Day, so I kept mine in but you can always toss these after the chocolate hardens so don't be afraid to use a normal toothpick. Dip your faux caramels in the chocolate and if you've decided on a topping, nows the time to sprinkle it on or roll your chocolates in it after they've been dipped. This particular batch I used unsweetened coconut flakes but you can get as creative as you want with it!
Once they're all dipped, place them back in the freezer for 10-20 minutes for the chocolate to harden and leave them either there or in the refrigerator till you're ready to serve! These babies are best enjoyed firm and cold!