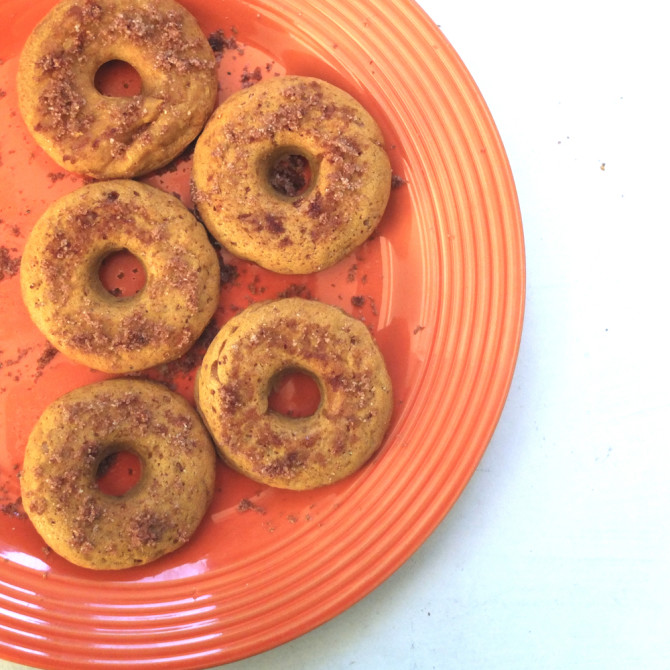 Vegan Gluten Free Pumpkin Spice Donuts
Alrighty love bugs, I couldn't hold out on you any longer. My newsletter subscribers got this vegan, gluten free, pumpkin spice donut recipe a couple weeks ago but I didn't want anyone to miss out because it is SO good! For the latest, yummiest, exclusive recipes be sure to put your email in the giant box above and you'll get a little love note from me each week with a mouth watering good-for-you recipe!
So amidst my mission to buy out all the pumpkin pie spice and organic pumpkin puree in New York City this fall, I have been almost exclusively making fall themed treats and these healthy, vegan, gluten free pumpkin spice donuts were the first of the bunch! They are baked, not fried and have a really nice, moist, cake-like texture. Give this recipe a whirl and let me know what fun toppings you decide to drizzle on these babies.
HEALTHY VEGAN PUMPKIN SPICE DONUTS
2 cups of trader joe's whole grain baking mix ( you can use any baking /biscuit mix – for gluten free try Bob's Red Mill's!)
1 cup of organic pumpkin puree
3 tbsp of coconut oil
2 flaxs -'eggs' (2 tsp flaxseed meal + 6 tsp of water whisked)
3 tsps of pumpkin pie spice (or to your taste, I like a lot of spice!)
1 tsp of vanilla extract
—— dust top with coconut sugar + pumpkin pie spice ———
Super easy to make! Whip all ingredients in together in your mixer, place in a pastry bag (or a ziploc baggy that you cut a corner off! 😉 ) for easiest dispensing into your doughnut pan and bake in the oven on 375 degrees until golden on the edges. Plop out on cooling rack and sprinkle your dusting ingredients to your liking! Enjoy! Tag me on your photos when you make them and I'll repost some of my favs! xo!