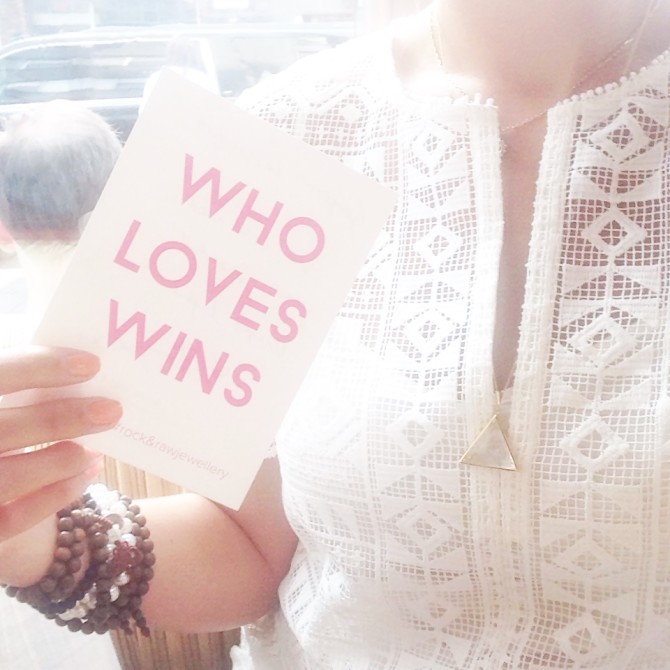 busting through blocks and going back to basics
A few days ago when I was writing my last post about the KIND event that I lead a meditation at, I started getting a little emotional, that good kind of emotional where you start doing something that you didn't even realize you missed so much. That something was blogging, just straight up telling you guys about what was going on in my life, the highs and lows, exciting events and soul stirring revelations. I missed it!! Sure I share a ton of my life with you through instagram, periscope and youtube but it's not the same as the journal like quality of blogging. I can't explain it but sitting here just typing away at whatever comes to mind feels so good, so therapeutic and so intimate.
Well then why I did I stop?
That's a valid question and yes, it was intentional. I have been working on my memoir for two years now and it has been a painstaking labor of love. I had made the decision to do more videos and other content during the process so that my writing endeavors could be focused on the massive project that lay in front of me. Made sense. However, what I discovered this past weekend was that blogging was the whole reason I have everything I have now! This LightMaker house was built on my own crazy concoctions in the kitchen, my honest accounts of my struggles and my journey to living in the light. It's why people started paying attention to me to begin with. Now, I'm not going to stop periscoping, youtubing or instagramming because I whole heartedly love that as well but I am COMMITTED now to writing to you guys once a week and letting you know what's going on in my world. And if you enjoy these blogs I hope you use the comments below to start a dialogue, ask me questions, show me some love or just say hi!
This weeks other major "Ah HA" moments..
Your triggers are the universes loving way of showing you the areas of your life you still need to work on.
Ouch. This one can always suck majorly. Someone upsets you, a situation frustrates you like no other or a person's behavior drives you mad – – it's never about them. It's always about you! Once you fully integrate this it's an absolute self-development gold mine whenever you choose to utilize it. So I've known this, of course, but I was feeling particularly triggered the past couple weeks with all sorts of various situations that were going down.  I also had my period so hellloooo sensitivity! However, instead of going into the grievances, I started taking notes! I literally wrote down whenever something would pop up that would irritate or upset me and then immediately counter-write what it was in me that I was unhealed about. For example, someone your eagerly anticipating an email from doesn't respond for a week, but instantly you (or I) realize that it's bothering you mostly because you are not as on top of answering emails as you would like to be. I'm super guilty of that but once I looked at it I was able to leap into action on going through my inbox! On another note, maybe your girlfriend gets upset about the silliest things and you  love her to death but sometimes you have to restrain yourself from huffing a bit and rolling your eyes. Well, hello beautiful, are there situations in your life where you make a mountain out of a molehill?! Never, I'm sure. Haha. This approach to dealing with things that get under your skin was a massive game changer in my life and I hope you steal it from me and use it in yours!
Remember why you started. Rekindle the joy!
This one was about the blog but can be applied to anything in your life. I know for myself sometimes I get overwhelmed with massive projects on my plate and the most important thing when that happens is to bring back the JOY. There was so much joy in writing this post, it felt so good and it makes me excited for upcoming adventures I'll be able to share with you. This can also be powerful in relationships, after time we can start losing that joy we first had when we met someone, whether it is a friend or lover, there is always that spark when you meet someone who's going to take on a bigger part in your life, who makes you laugh and lights you. Remember why you started and tap into the immense power of the golden nugget of love in your soul for whatever the endeavor may be!
The trick to doing it all is scheduling it all.
I admit,  I needed some help with this one. My friend Nitika Chopra is one of the most organized women I know when it comes to her work so I asked her for some tips on tackling on the amazing but hefty projects on my plate right now because I know I can handle it all, I just needed some tools! First thing she said was SCHEDULE it! Sounds simple but I wasn't doing it. I wasn't putting my projects in my google calendar and therefore meetings and interviews were clogging up the time that I really needed to be working. Not scheduling also left me feeling unfocused, which is a super easy trap to fall into when you work from home – – speaking of — she also said to put away the phone during my scheduled blocks so that I make the most of my allotted time. Well let me tell you that today is day one of this and I'm already almost half way through my to-do list for the day and feeling SO ready to take on all the abundance flowing my way!
And as if that all wasn't getting me pumped enough, today's A Course in Miracles lesson ( for those of you who don't know, I do a ACIM lesson each morning on Periscope called "miracle mornings" and we chat about the lesson as well as get pumped up and inspired for our day together) was, "there is nothing my holiness cannot do." If that's not a big punch of love and light, well then I don't know what is! It really got me thinking how all of these little ah – ha 's tie together and how when we center in on our true source, whether you call that love, light, the universe, God or what not, when we hone in on the amazingness that we are made of we realize that there is nothing we cannot do. We are unstoppable!
I hope you'll join me in throwing that LOVE bomb of unlimitedness all over today, tomorrow and onwards and watch your life expand as you do!
A little business before we go, I have two exciting announcements today!
1. If you're a NYC lightmaker, I hope you will join me at PureHouse in Williamsburg, BK for one of my final meditation workshops before I leave for Cali! It's on Wednesday 9/16 at 7:30pm and you can reserve your spot here http://puremindfullness2.splashthat.com/Cass
2. I'm launching a very intense, very special 3 month program and I'm limiting enrollment to 6 wonderful ladies — 10 at the VERY max if I feel super aligned with a few other souls. It will be 3 months of work around building a powerful well of light utilizing food, meditation and self care to transform your clarity and connection to your inner guide, elevate your vibration and fill your well up so high that you will be an unstoppable force of light + love in the world. If you think this is something your ready to take on, email me now at cbodzak@gmail.com. I will be doing a soft launch of this program to interested inquires before I announce it in it's entirety to my list and open it up for sign ups.