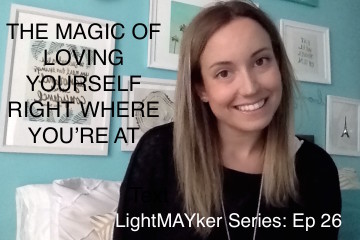 The MAGIC of LOVING YOURSELF right now
This video is very close to my heart because I feel like it's something I really needed to hear and am now excited to share with you guys: IT'S OKAY TO BE WHERE YOU'RE AT! No, really, it's totally fine, it's even wonderful! Accept and love yourself right here and you will pave the way for your ultimate vision to come to reality before your eyes. Click play to learn more about the magic of loving yourself and don't forget to SUBSCRIBE to see more LightMAYker videos at the top of your feed each week!
The LightMAYker Series is a video every day where I'll be letting you have a more intimate, raw look at my day to day from everything to thoughts or ideas that I'm working through personally or with my clients, my daily rituals as well as answering any questions or sharing based on requests from YOU! Please feel free to comment below with any questions or comments about what you'd like to see in future videos!
Sign up for my weekly newsletter here: http://bit.ly/1c3KHRq
Get my FREE 45 minute audio "A Beginner's Guide to Bliss" at http://eepurl.com/_g5uf