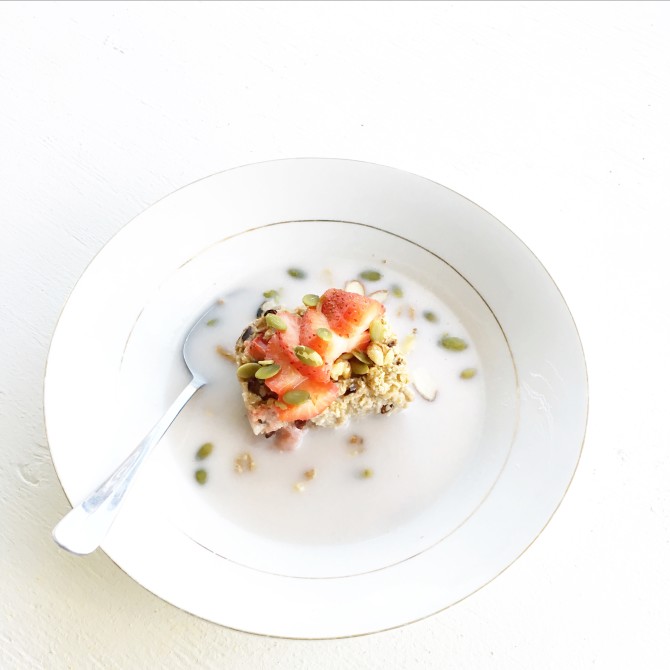 Gluten Free Oatmeal Cakes with Thrive Market
I had a blast sharing some of my favorite gluten free and vegan recipes with Thrive Market recently. These gluten free strawberry banana oatmeal cakes are a great easy vegan recipe to make on Sunday night and have for breakfast all week long. They also make a delicious addition to your weekend brunch, just place them in a bowl with some steamed nut milk and chopped strawberries for a complete upgrade from your average oatmeal!
Strawberry Gluten-Free Baked Oatmeal Cakes
Yield: 6 to 8 servings
Active Time: 15 minutes
Total Time: 25 minutes
Ingredients
3 cups gluten-free oats
1 tablespoon baking powder
1/2 teaspoon sea salt
2 teaspoon cinnamon
2 "flax eggs" (see below)
¼ cup maple syrup
2 teaspoons vanilla extract
½ cup unsweetened applesauce
2 bananas, ripe
½ cup chopped strawberries
For one "flax egg"
1 tablespoon flaxseed meal
3 tablespoons water
Instructions
Preheat oven to 375 degrees.
Make the flax eggs
In small bowl, mix together flaxseed meal and water until combined. Let sit for 5 minutes to come together.
Make the muffins
In medium bowl, stir together dry ingredients. Add wet ingredients and stir until just combined. Distribute batter evenly into muffin tin cups and bake for 10 minutes, or until set.
Serve with almond milk, nuts, fresh fruit, and/or nut butter.