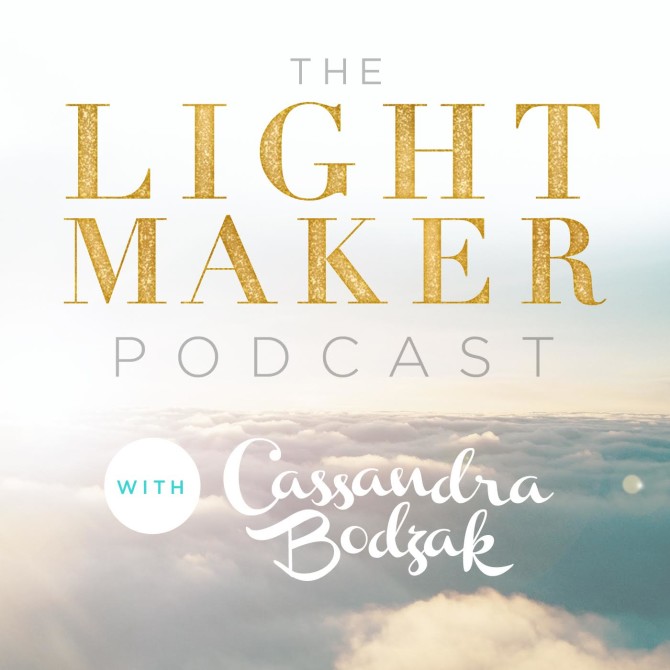 The LIGHTMaker Podcast is BACK!!
In the first episode back after our hiatus, our host, Cassandra Bodzak, shares with us WHY she needed to step away from the podcast for a few months and why it might be exactly what you need to hear right now if you are feeling drained and over extended as well as how she got her (two) book deals. She goes into what you can do now if you are feeling called to have a book (whether it's now or in the future) as well as her biggest breakthrough during the writing process. Listen in and let us know what you think!
Please leave your thoughts, love and suggestions in the comments on iTunes – we LOVE hearing from you and appreciate all of your beautiful words and ideas!
To contact Cassandra about being an ambassador for the book, email her at CBodzak@gmail.com
You can PRE-ORDER the book here: http://www.amazon.com/Eat-Intention-Nourishing-Meditations-Mindful/dp/1631062360/ref=sr_1_1?ie=UTF8&qid=1464580808&sr=8-1&keywords=eat+with+intention
** PLEASE NOTE: This is a working cover + description and is in the process of being updated to more accurately represent what's inside the book like you heard Cassandra speak about on the podcast. It is a book about utilizing the technologies of food, meditation and self care to make peace with your body and listen to your intuition so that you can live a life that lights you up from the inside out and includes 75 curated plant-based recipes each with their own mantra and meditation.

If you missed Cassandra's Go Big Shine Bright meditation workshop + talk about busting through self sabotage to reach a new level of living this past Friday, you can order the recording for the next few days after this episode is live at http://gobigshinebright.splashtthat.com
Click here to LISTEN + SUBSCRIBE:
https://itunes.apple.com/us/podcast/the-lightmaker-podcast/id1042765691