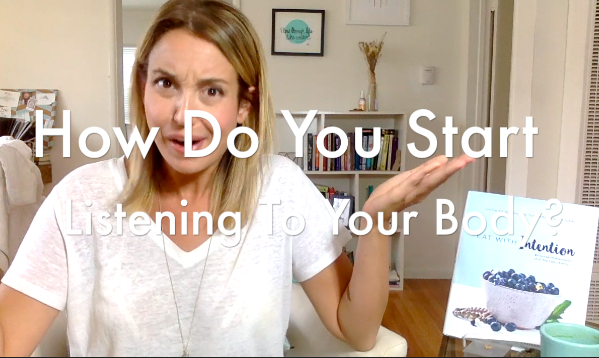 How to Start Listening to Your Body
In this video I dive into one of the questions I get asked all the time around my book, "Eat with Intention" — How to start
listening to your body and begin communicating with it. Here, I break it down into basics, explain how to reconnect with your body and then get into a daily practice of asking it questions. I am so excited for you guys to take on these tools and challenge yourself to tune into your body and it's intuition on a regular basis. Let me know below if you have any questions, are going to step up and take my two week challenge as well as any other helpful tips you'd love to share about talking to your body!
If you enjoyed this video, please share it with a friend that you could benefit from it, SHARE it on your social media and SUBSCRIBE so that you never miss a video from me!
The NYC Body Wisdom Event I talk about, you can RSVP here: http://bodywisdomnyc.splashthat.com
You can also order a signed copy at the link above or a regular copy on amazon here: http://amzn.to/2cXdfQl
Want to dive DEEP and make peace with your plate and your body once and for all — book a one on one session and I'll walk you step by step through reconnecting with your body's wisdom. Details here: http://cassandrabodzak.com/mentoring