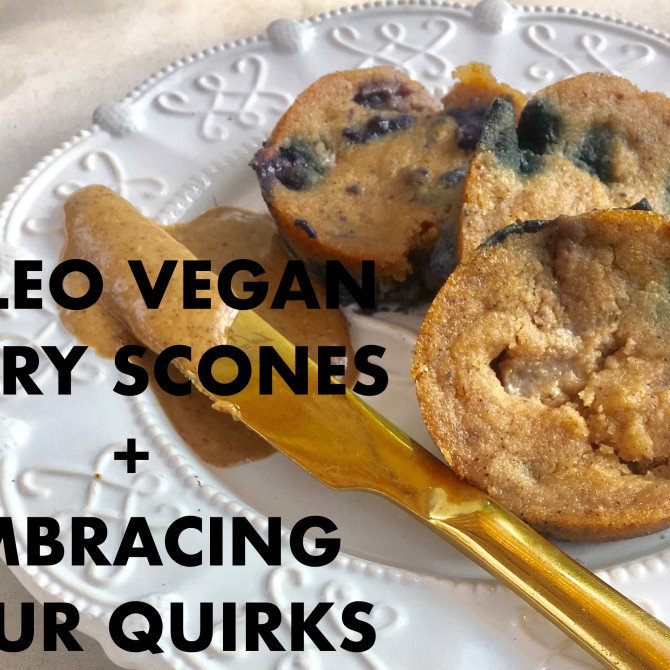 Paleo Vegan Scones + Embracing Your Quirks
In this episode of "Eat with Intention TV", I'm sharing a vegan, gluten free recipe for berry scones from my book, "Eat with Intention" that I have remixed using Bob's Red Mill Paleo Flour and using some beautiful summer berries. We also chat about the power of embracing your quirks, the mantra that goes hand in hand with my favorite scone recipe in the book and how this has had a profound impact in my life. When you embrace your quirks, own all of the out-there beliefs you may have or weird things you love doing, you give yourself permission to LIGHT up and invite others to get on with their freaky selves too! We are all so beautifully unique and bizarre and too often dim our shine to fit in or feel loved. I think you are going to love both this delicious vegan, gluten free, paleo (all the things!) scone recipe and really resonate with this loving reminder to fly your freak flag and have fun with this one precious life we have!
————————————————————————————————
PALEO VEGAN BERRY SCONES
Ingredient list + click to shop links for your convenience:
1/3 cup melted raw extra-virgin coconut oil
2 cups of Bob's Red Mill Paleo Flour
3 tablespoons date sugar
1 tablespoon baking powder
pinch of salt
1 cup culinary lite coconut milk
1 teaspoon vanilla extract
1 teaspoon almond extract 
1 cup organic blueberries (fresh at farmer's market or grocery store)
1/2 cup organic strawberries
1. Preheat your oven 375 degrees and grease a small baking sheet (or scone pan) with 1 teaspoon coconut oil. Set aside.
2. In a medium mixing bowl, combine all the dry ingredients and mix throughly, breaking up any clumps. Add the melted coconut oil, coconut milk, vanilla extract, almond extract and mix thoroughly, and then fold in your fresh berries. (The batter should be thick like cookie dough)
3. Roll the batter into the ball, place it on the greased baking sheet, and then press down to make a 2-inch thick disk (or use a cupcake pan like I do in the video). Bake for 11 to 13 minutes, or until the edges crisp and fork comes out clean when inserted. Set aside and cool for fifteen minutes.