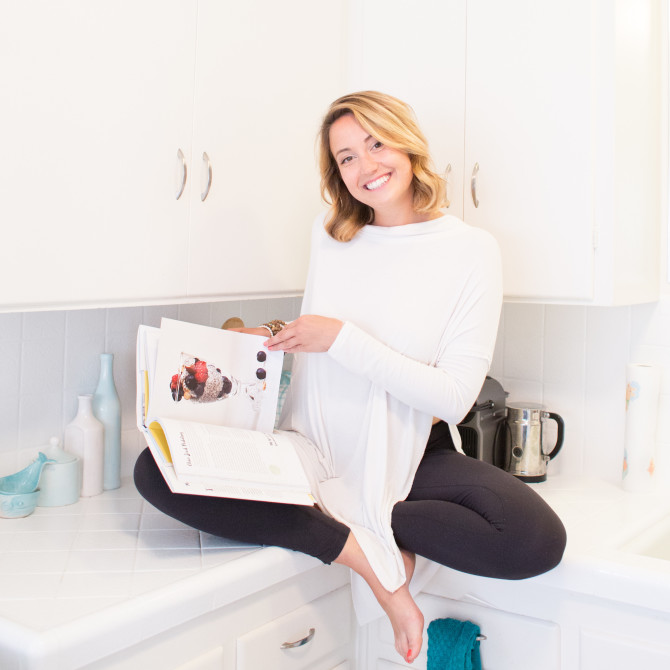 Ready to write your FIRST book?!
Recently, as I was walking down the beach and playing in the ocean, I couldn't stop hearing the message that it was time to really buckle down to write my second book. "Eat with Intention" launched last November and it's birthing process was long, arduous and at times isolating, I had needed a few months of rejuvenation before I dove straight in to the next one but walking in the ocean that night, I got a rather unexpected idea or assignment you might say. It became so clear that because of my journey these past two years I could tremendously help first time authors write their first book baby with more grace, ease, community and support than I had and really hold the space for their book babies while writing my second. So I ran home and journaled about all of the things that would have made writing my first book SO MUCH EASIER, things that would have made me feel more confident, supported and joyful every step of the way. This is how my LightMaker Book Birthing Club was born.
Are you feeling called to write a book? Do you really want to crystallize your message and your teachings in a really tangible way that people all over the world can get their hands on for a super affordable and accessible price?! Is just reading this activating a tingling in your heart?
I can SO relate. I bet you also have a lot of fears coming up too! Like how about, "but I don't have a million followers – what's the point?" or "I have so many ideas, I wouldn't even know where to start when writing a book?" or maybe even the infamous, "who am I to write a book?"
Well to that last one, who are you NOT to!? You have been given this beautiful life and unique journey to learn your lessons and master your field in such a unique way so that you can help others who relate to your specific flavor of healing. You have a book that's ready to be born!
For the first two questions, I recorded to YouTube videos to give you my straight shooting answer about my honest opinion before you move any further, if your already thinking "I'm SO ready to do this!!", scroll down past the videos to find ALL the juicy details about how you can write your book with me in the next 6 months!
SO you're thinking, "what if this isn't the right time for me to write my book?" watch below.
"How do I know what book idea to go with first? OR get clarity around what my book should be on?"
The LightMaker Book Birthing Club
It's perfect for you, if:
you are ready to finally write that book baby you've been dreaming of in the next six months
you are serious about buckling down, getting it done and getting the support, accountability and encouragement you need to finish it
you want feel the guidance and support of someone's who has been there, written the proposal, gotten a publishing deal and launched a book to help you make it happen
there's a calling in your heart to get this message of yours out of your body and into the world and you would love assistance on all the technical "earth based" steps to make it happen
you resonate with my 'practical magic' approach to business and love the idea of both creating an amazing marketing plan, incredible proposal and stellar book as well as the importance of creating sacred space and times to write in as well as connecting to your higher self (the universe/your guides) for support every step of the way to help you knock it out of the park
If you are saying YES YES YES right now then here's what you can expect from myself & the LightMaker Book Birthing Club:
a mentor and guide that will be your champion every step of the way (me!)
a group of specially curated running buddies to have alongside of you during this six month journey
actionable tips, tools and practices to help you write your book AND get it out in the world
accountability every week, every step, helping you stick to your goals and stay on track
having the book process broken down in to digestible steps so you can stop stalling and start writing
a place for questions and sharing as you move through your book journey
AND MOST IMPORTANTLY, A HAPPY, HEALTHIER, MORE SUCCESFUL BOOK FINISHING EXPERIENCE OVERALL
Here's what that will look like:
A private LightMaker Book Birthing Club only facebook group where you can share your ideas, struggles and journey as well as connect with other incredible budding authors while you write, making friends and getting feedback as you go!
BI-WEEKLY Facebook LIVE 'clarity sessions' with moi (will be saved in our group to watch at leisure if you miss) where we hit on topics like:
– What makes a good book proposal?
– Breaking down the different elements of a proposal and giving you guys a sample structure
– What makes a book proposal attractive to an agent or publisher?
–  How to AMP up your marketing plan and build your platform while writing / Tips for creative ways of making it super juicy even if you don't have a massive following or email list
– How to create a sacred space + schedule for your book writing
– How to handle creative blocks and invite your higher self/God/the universe etc in as a co creator to your book
– Should you self-publish or go with a publisher? Real talk pros/cons of both
– Next steps — finding a publisher or self-publisher depending on what you've decided
– How to lovingly ask people for quotes, a foreword, or support on your book so they WANT to say yes to you
– Post its, index cards, you name it — how to get going on the FULL book once the proposal is done and you are off running
– What makes a great title and subtitle? Brainstorm options with the group
– Action steps for book promotion once your first draft is submitted
– And much more based on the feedback I get from the group once we get going and everyone privately tells me a little more about themselves, their book and their goals/roadblocks
WEEKLY accountability check in conference calls where we all check in and share 1) what we committed to accomplishing that week, 2) what we actually did and 3) our next goal for the upcoming week to keep each other honest and moving along!
REAL SUPPORT / the relationships you make in this group will have you with a whole army of supporters who will love sharing about your book when it comes out, i'm sure a lot of you will make great friends and of course, you will have my support when it comes time to share the good word about your book coming out as well as an opportunity should you want me to write something as a supportive quote (which you will find out why getting a bunch of support quotes from people who are respected in your industry or as writers is SO important as we go through! 😉 )
MY EYES + EDITS! As a special bonus, I will be offering 2 edits to everyone who joins, you can use them any step of the way, once you finish your proposal, on your marketing plan or on one of the chapters of your book at any time during the six months and I will read it over and send you a thorough list of notes and edits back!
Your energetic commitment: $197/ month (or pay in full for all six months at once $1,000)
If you'd like to also go even deeper, you can add an hour-long intensive one on one session with me every month to discuss your book as well as anything else that comes up for you in your business/life.
LightMaker Book Birthing Club + Monthly Hour Session with Me: $297/month (this is a crazy deal if you've ever worked with me one on one) 
*no refunds once we begin because spots are limited.*
We start right after labor day weekend, week of 9/5 (our first group LIVE facebook with be on Sunday 9/10) and in the meantime we will get everyone enrolled and introducing themselves to the group!
I can only accept 15-20 people at MAX to keep it intimate and effective and allow me to make sure everyone receives the support they need. So if you are a "HEAVENS YES" answer these four simple questions below to tell me a little bit about your book and why you're ready to be in the group and if accepted I will email you back within 24 hours with payment details to secure your spot!
EMAIL CBODZAK@gmail.com + ANSWER THESE QUESTIONS TO APPLY:
1) Tell me about your book in a few sentences! Most importantly, what's the topic and where are you at in the process right now?
2) Are you REALLY READY to commit and get this book proposal created/finish this book in the next 6 months?
3) What are you looking forward to the most about the LBBC and guidance from me?
4) What are the best days + times for you for our LIVE accountability calls each week and bi-weekly facebook lives?
5) If accepted, would you want just the group support or an additional one on one with me each month as well?
It's important to me that 1) I'm aligned and excited about your book so I can be the cheerleader/supporter that I intend to be for every single one of you in the group and 2) that your committed to doing the work and getting this book baby done so at the end of 6 months we've all made really tangible progress and ideally fully completed our books together!