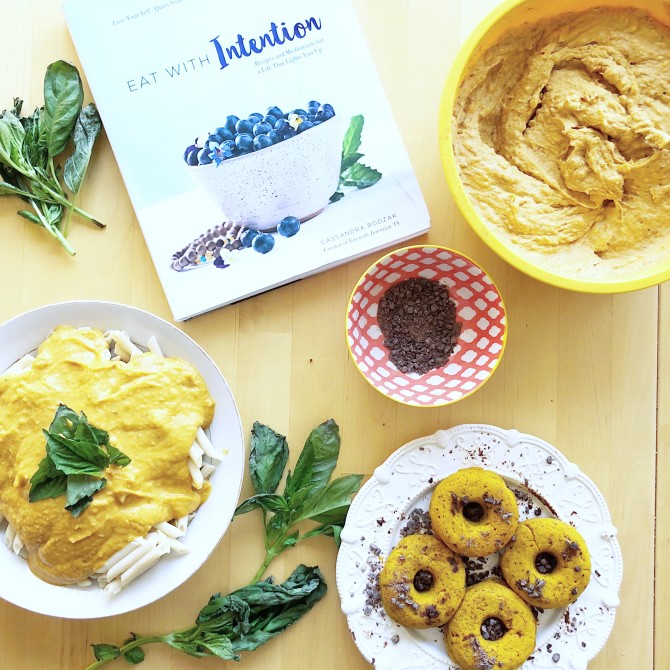 Sweet and Savory Pumpkin Spice
Tis' the season for our favorite flavor of them all… pumpkin spice! Luckily, I teamed up with Lori Corbin from ABC7 news to show you how to get your pumpkin spice on with out all the added sugar and chemicals that come along at some pretty popular chain cafes or restaurants. Making your pumpkin spice treats at home is a sure fire way to get it the healthy way!
After all, did you know that pumpkin spice actually does NOT include any sugar?
That's right. You can make your own Pumpkin Spice at home using just 3 tbsp of cinnamon, 2 teaspoons of nutmeg, 2 teaspoons of ground ginger, 1 1/2 teaspoon of all spice and 1 1/2 teaspoon of ground cloves. Now you can even buy "pumpkin spice" already mixed together for you in the spice section of your local grocery store. Put a little shake of this baby in your morning coffee or mix it into your favorite coconut creamer for a healthy, sugar free way to add a little pumpkin spice to your day.
Below are two of my favorite ways to celebrate the season, a savory (and super decadent) pumpkin basil cream sauce for your favorite gluten free pasta and my pumpkin spice donuts — both of them so delicious and simple to whip up that you will have a hard time believing just how nourishing they are for your body! Enjoy!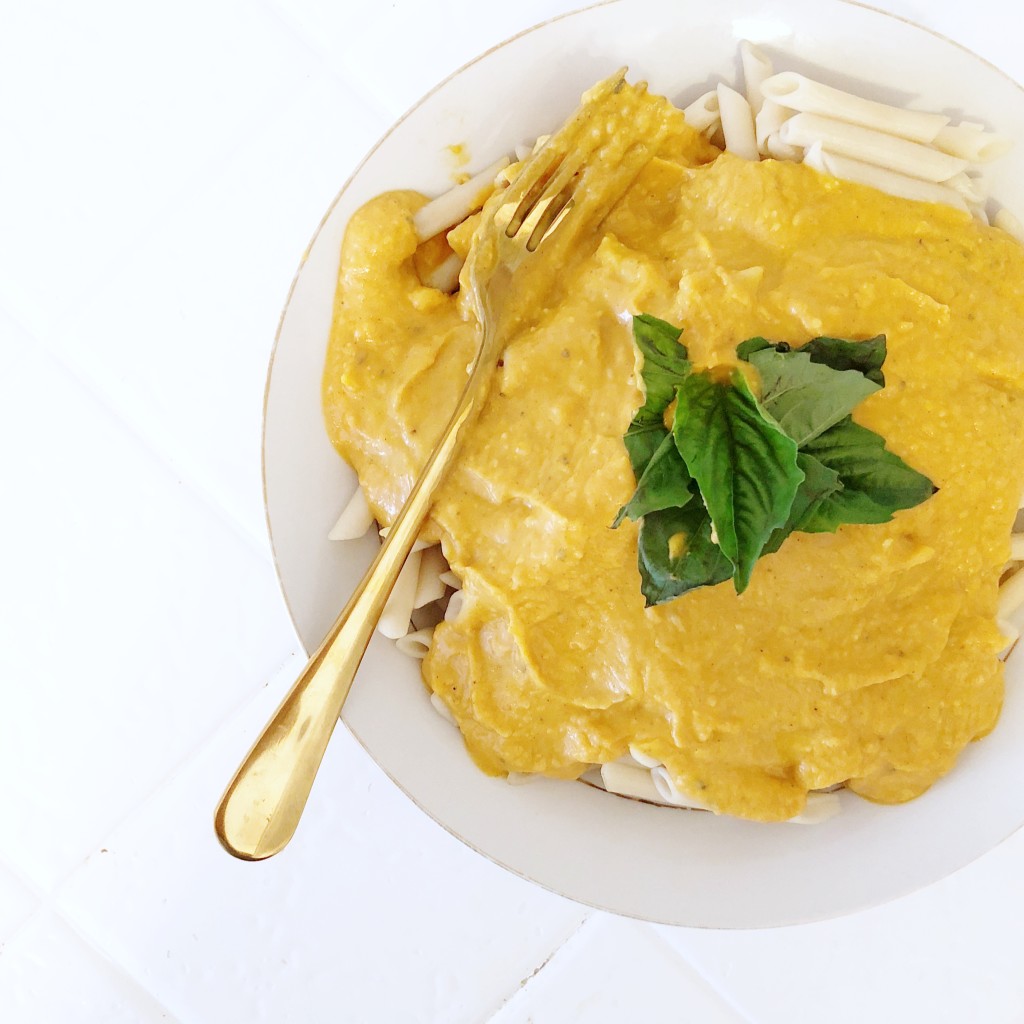 PROTEIN + FIBER PACKED PUMPKIN BASIL CREAM SAUCE
1 can of cannelloni beans
1 can of organic lite coconut milk
1 can of organic pumpkin puree
1 tbsp of Pumpkin Pie Spice (more if needed after you taste)
handful of fresh basil and 1 tbsp of dried spice shaker basil
1/2 white onion, chopped and sautéed with olive oil
1 bulb of garlic, chopped and sautéed with olive oil
1 tbsp of EVOO
Salt, Pepper to taste
This simple a decadent Pumpkin Basil Cream Sauce recipe is easy for you to whip up in minutes. If you don't have fresh onion and garlic on hand to brown in a frying pan with a little olive oil, you can also use onion powder and garlic powder to taste to help with the savory flavor. Combine all your ingredients together in a food processor or high powered blender. Taste the sauce and add more basil, pumpkin pie spice or salt and pepper till you get the perfect sweet and savory balance for you!
Ladle it over your favorite gluten free pasta, I love brown rice penne as shown here but whatever your usual go to is will work fine!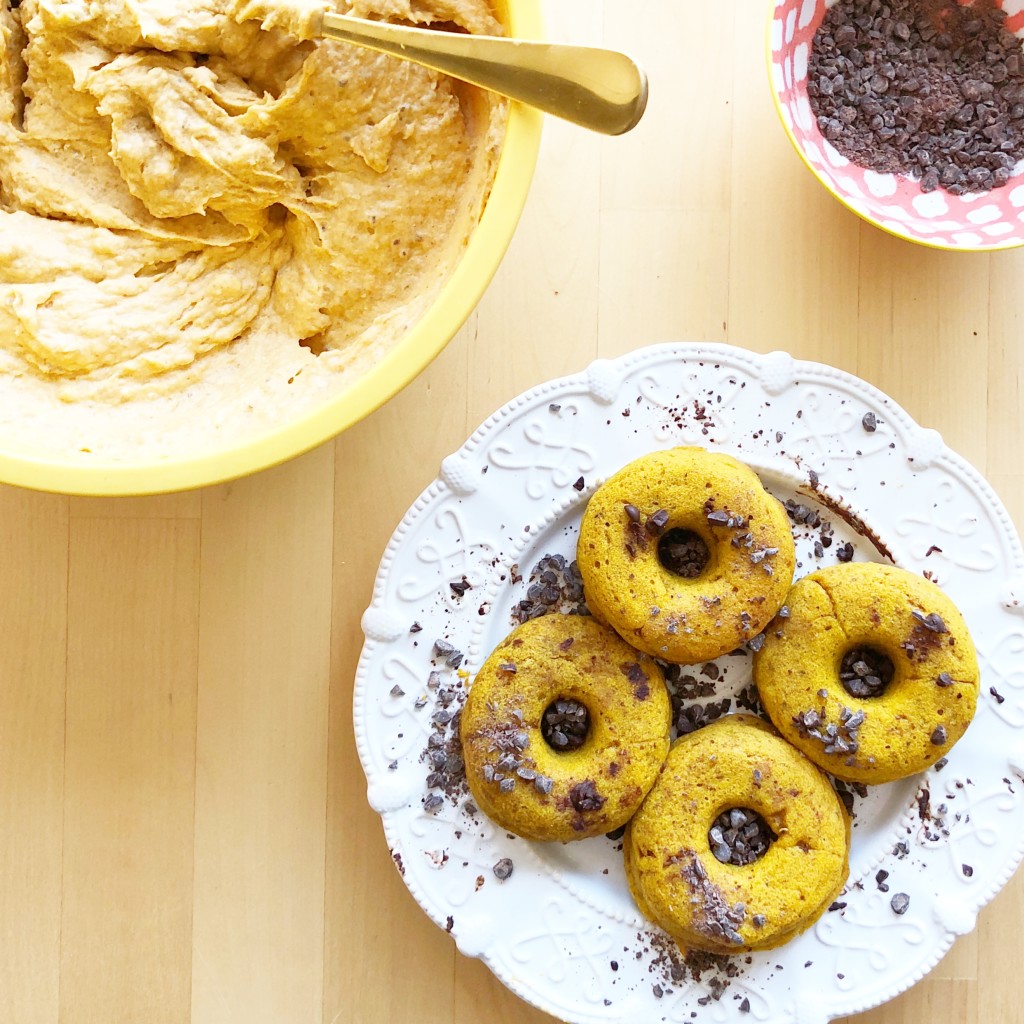 HEALTHY VEGAN PUMPKIN SPICE DONUTS
2 cups of trader joe's whole grain baking mix ( you can use any baking /biscuit mix – for gluten free try Bob's Red Mill's!)
1 cup of organic pumpkin puree
3 tbsp of coconut oil
2 flaxs -'eggs' (2 tsp flaxseed meal + 6 tsp of water whisked)
3 tsps of pumpkin pie spice (or to your taste, I like a lot of spice!)
1 tsp of vanilla extract
—— dust top with coconut sugar + pumpkin pie spice OR crushed cacao nibs———
Super easy to make! Whip all ingredients in together in your mixer, place in a pastry bag (or a ziploc baggy that you cut a corner off! 😉 ) for easiest dispensing into your doughnut pan and bake in the oven on 375 degrees until golden on the edges. Plop out on cooling rack and sprinkle your dusting ingredients to your liking! Enjoy! Tag me on your photos when you make them and I'll repost some of my favs!