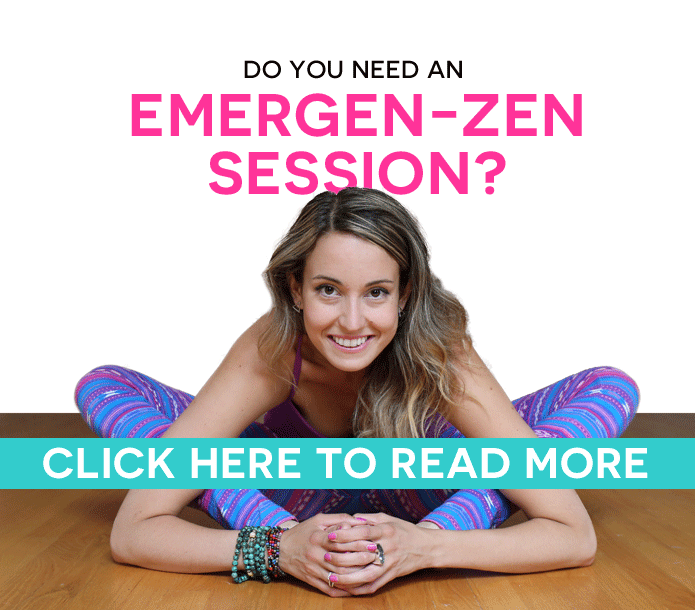 EMERGEN-ZEN SESSIONS
This is for you if you want a QUICK FIX or maybe want to take me for a test drive.  It's perfect for those times when you are drowning in overwhelm, bugging out about the guy your dating (or maybe NOT dating anymore), totally stressed out at work or anytime you just desperately need to ZEN out. Our session will last around 90 minutes and here's exactly what we'll do together:
* Discuss your "dilemma" :  We'll spend the first 30 minutes or so getting really clear about what's going on and discussing actionable steps to get you out of the funk and back to bright, blissful you.
* Zen it away :  Here's where the magic happens, I'll lead you through a personalized sequence of guided meditations, kundalini meditations and even EFT or tapping, if needed. You'll relax, recalibrate and be amazed at the breakthroughs you can achieve from simply sitting and finding your zen with me.
* Celebrate your new clarity :  After your meditation experience, we'll de-brief about what went on for you during the process and help you put together any remaining pieces or get additional insight on anything that may have come up for you. You'll be loving all the clarity you've gained on the situation.
* Get a "prescription" to take away:  Now that you're feeling great you'll want to keep it going, so I'll send you off with a personal prescription of some simple things you can do each day  to keep your zen going. 
READY TO SCHEDULE ONE or get more information? 
email GoSweetandSkinny@gmail.com with the subject line "EMERGEN-ZEN" and the best days/times for your session and we'll email you back with the availability we have that matches them.