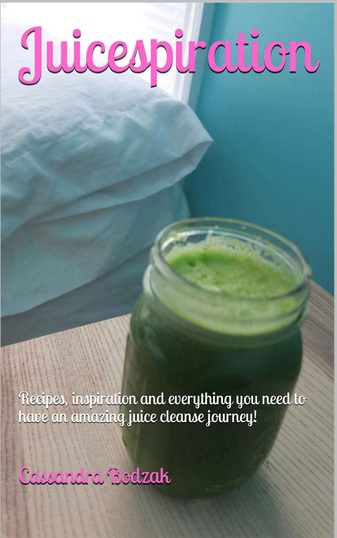 Why #Juicespiration?!
Well to know me, is to know that I am a firm believer in "Peace, Love and Green Juice". I truly believe green juice is the key to helping our bodies recover from the daily environmental stresses put on them and that it can help restore an otherwise toxic body back to health. Whether you have certain health ailment or if you just feel the extra pounds dragging you down, juicing can truly help you get to a better place. I believe that with my WHOLE HEART! So in this book, you'll get a glimpse in to the start of my love affair with juicing , some inspiration to help you along your juicing journey and an easy 'how-to' for your juice cleanse complete with lots of yummy recipes!
It's an ESSENTIAL manual for those who don't want to pay a ton of money for a delivery juice service or necessarily have the time to make all of their juices at home. I help you make your juice cleanse work for your life by providing a simple but effective outline to follow and offering lots of on-the-go options and advice for navigating the chaotic waters of your day to day life!
Click on the cover below to be taken to the Amazon page or just click here
Already got the book?! Join the #juicespiration community by posting instagram pics, tweets and facebook comments tagging @cassandrabodzak (@cassandrabodzak for twitter) and #juicespiration! I'd love to share your juicing journey and by searching for #juicespiration you can connect with others on their juicing journey! READY TO GO EVEN FARTHER? Feeling so inspired by your juicing that you are ready to take your health and happiness to the NEXT LEVEL? Do you want to stop stressing about food (and everything else!), start eating things that make your body feel AMAZING and finally have the vibrant, fit body you know is hiding under there come out and play?! Well contact me TODAY for a FREE 30 minutes Healthy Body – Happy Life Breakthrough session! Email cassandra@gosweetandskinny.com to schedule an appointment today and don't worry if your not located in NYC, skype and google hang out sessions are available!
Can't wait to speak with you! Happy Juicing!!

xoxo,
Cassandra