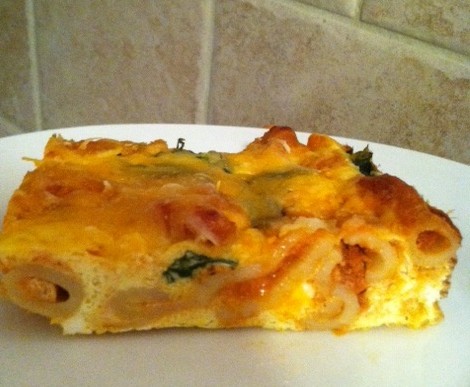 Tis the season to indulge in a little comfort food, eh? Well one of my favorite splurges is an amazing penne a la vodka with shrimp from an italian restaurant by my apartment and this past sunday I decided to let myself have it! Now, in order to prevent myself from a mega carb binge, I also ordered a salad and made sure to eat a bit of that first so I wasn't ravenous once I got to my pasta. Secondly, the size of the pasta dinner (as it is at most italian restaurants) was actually enough to feed me all week for dinner, so I had a average bowl sized amount and took the rest home. And now comes the good part- I recycled my penne a la vodka in to a delicious frittata that I'll be able to eat all week long guilt-free because I loaded it up with protein and veggies!
PENNE ALA VODKA FRITTATA
The amount of eggs you use will depend on how large your pyrex dish is (mine took 8 eggs) but scramble enough eggs to fill your dish at least an inch or so and then add 3 tbsp of fat free greek yogurt and continue to scramble the mixture together.
Meanwhile, throw some baby spinach (three large handfuls), olive oil and garlic into a frying a pan on the stove and sauté that for a couple minutes. Pour the spinach and left over pasta in the pan and spread it out evenly. Now pour your eggs on top and feel free mix it up in the dish so that the eggs are mixed through out. Sprinkle a little reduced fat cheese on top (if you please) and stick that in the oven on 425 degrees for a about 20 minutes or till you see the top getting golden brown!
Enjoy! You can cut it into individual portions and eat it for breakfast all week!

Thanks for reading! I love that Go Sweet and Skinny is your go-to website for healthy living tips, vegan and vegetarian recipes (from everything from appetizers to cupcakes!) and diet advice. I"m committed to helping you get skinny and live the sweet life! Please follow @gosweetnskinny on twitter, like us on Facebook and subscribe to our YouTube channel (youtube.com/user/gosweetandskinny) to keep yourself sweet and skinny 24/7. And as always, feel free to email me at gosweetandskinny@gmail.com and let me know what low fat, healthy recipes you want to see on the site, what diet books your trying and ask any diet questions your little heart desires! I'm here to help you!:)