The Best Vegan Buttercream I've Tasted
I found this yummy vegan buttercream icing recipe on CHOW.com and then did a little improvising for my last batch of mint cookies and cream cupcakes! It's super easy and very easy to manipulate for whatever flavor you desire! For example, I broke up some Newman's Own Hint 'o Mint cookies and mixed it into the batter and then topped it off by chopping the cookies into quarters and sticking them on top.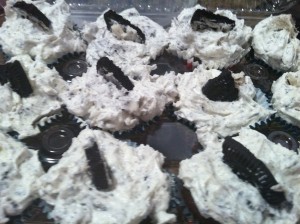 THE RECIPE:
1/2 cup non hydrogenated shortening
1/2 cup non hydrogenated margarine
3 1/2 cups powdered sugar
1 1/2 teaspoons of vanilla extract
1/4 cup of vanilla soy creamer
Now, just beat the shortening and margarine together till well combined, add the sugar and beat for another three minutes or so. Then just add your vanilla and soy creamer, mix for another 5-7 minutes till fluffy and you're all set!
I like to dollop this kind of icing, taking advantage of its fluffiness  instead of piping it through a bag. (But that's just my preference!) Also, I add unsweetened cocoa
powder (judging pretty much by taste) to get a chocolate buttercream and then top with vegan mini chocolate chips for my double chocolate cupcakes below.