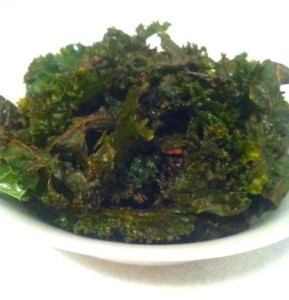 Kale is definitely the "in" green of the moment here in New York and if you've visited some of the city's green markets or smorgashburgs you know that kale chips are now all the rage. Over the summer I saw people selling boxes of kale chips for as much as 10 and 12 dollars a batch! Well the truth is, they are delicious and much better for you to nosh on then their potato counterpart but they are SOO EASY to make at home that you should never feel the need to spend that much money on them!
Also, did I mention how AMAZING kale is for you?! It's got 5 grams of fiber per cup and only 36 calories, more calcium than milk (yay! vegans!), tons of Vitamin A to keep your eye sight strong and Vitamin C to keep your immune system in tip top shape this flu season! So pretty much Kale Chips = Super Snack!
With the SuperBowl just around the corner I figured you'd all be jonesing for some healthy options to sneak on to your snack table while your watching the game and I thought these easy to make kale chips would be perfect! You may even be surprised to see some of your friends and family eating them all up on you, t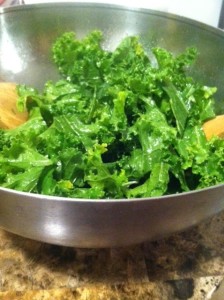 hey're that good.
KALE CHIPS
1 or 2 bundles of Kale (depending on how many people your trying to feed)
Extra Virgin Olive Oil
Garlic powder
Adobe seasoning
First, preheat your oven to 350. Then thoroughly wash the kale and let it dry on paper towels to get any excess water out. Take a knife and cut out all the stems leaving only the leafy green part of the kale. Either cut this part apart into little sections or just rip it using your hands into smaller parts and throw into a large mixing bowl. Once all the kale is in your bowl drizzle your olive oil on top, like you would a salad, not over saturating. Sprinkle garlic powder and adobe seasoning to your taste into the kale bowl, your going to want to season it a bit more than you normally might a typical vegetable. Now take two spatulas and toss your kale till the olive oil and seasoning is evenly distributed amongst all the leaves. Place the kale on large baking sheets and leave them in the oven for 5-10 minutes till the edges are brown but not burnt. Let them cool and enjoy!  Kale chips are so delicious and nutritious you'll find yourself getting addicted to making them…don't say I didn't warn you.

 
 
 
 
<em>Thanks for reading! I love that Go Sweet and Skinny is your go-to website for healthy living tips, vegan and vegetarian recipes (from everything from appetizers to cupcakes!) and diet advice. I"m committed to helping you get skinny and live the sweet life! Please follow @gosweetnskinny on twitter, like us on Facebook and subscribe to our YouTube channel to keep yourself sweet and skinny 24/7. And as always, feel free to email me at gosweetandskinny@gmail.com and let me know what low fat, healthy recipes you want to see on the site, what diet books your trying and ask any diet questions your little heart desires! I'm here to help you! :)</em>