GLUTEN FREE COCONUT LIME CUPCAKES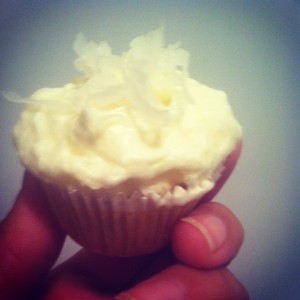 These Gluten Free Coconut Lime cupcakes (VEGAN) were the highlight of my summer creations last year and I couldn't help but recreate them once the weather started warming up! I'm not sure why I didn't post the recipe last year but here it is! Over due! Enjoy these Gluten Free and Vegan gems and stay sweet and skinny!
GF/V COCONUT LIME CUPCAKES
1 cup of coconut milk
1 tsp of apple cider vinegar
(Combine both and set aside while mixing the rest of the recipe)
1 1/4 cup GF flour
2 tbsp cornstarch
3/4 cup sugar
1/2 tsp baking powder
3/4 tsp baking soda
A pinch of salt
1/3 cup coconut oil
1 tsp vanilla
Juice of 4 limes
Add all ingredients in your mixer and then add your vinegar curdled coconut milk in last. Fill your cupcake tin about 3/4 of the way as these do not rise as much as typical cupcakes. Bake for approx 10 mins, while continuously checking on them! Enjoy!
For the icing, I simply used the vegan buttercream recipe and mixed in some unsweetened coconut as well as used the coconut to garnish the top! 😉
Thanks for reading! I love that Go Sweet and Skinny is your go-to website for healthy living tips, vegan, vegetarian and low fat recipes and diet advice. Let me know what healthy recipes you want to see on the site and ask any questions your may have. I'm here to help!