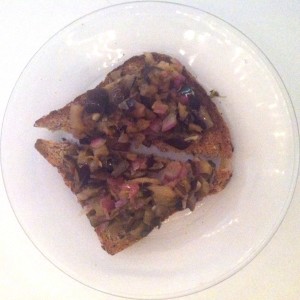 I love me some eggplant!! This Greek eggplant tapenade is totally vegan, low fat, healthy and wonderfully delicious. I really enjoy making a big batch of this at the beginning of the week and having it for breakfast or a light lunch through out the week on some toasted  ezeikel bread but it's also great served with crostini at a cocktail party. It's light yet decadent and totally good for you!
Skinny Greek Eggplant Tapenade
2 small eggplants
1/2  of a (medium sized) red onion, diced
2 garlic cloves, minced
3 branches of fresh parsley, minced
1 branch of fresh oregano, minced
the juice of one lemon
1/3 cup of extra virgin olive oil
3 tbsp of balsamic vinegar
(ezeikel bread or a baguette to slice and toast)
You can use prepackaged garlic, oregano or parsley if you MUST but when possible, FRESH IS ALWAYS BEST! It will just taste, so much better! Preheat your oven to 400 degrees and wash your eggplants and then stab them with a fork all over to give them a bunch of tiny holes all over so they don't explode in your oven. Place those babies in a casserole pan and stick them in the oven for about 20-30 minutes to roast. The skin should get slightly scorched and that's totally okay. 
While those little darlings are cooking, get to your cutting board to prepare all your flavoring agents! Dice your red onion, mince the garlic, parsley and oregano and put it in a bowl off to the side. Once your eggplants are done, cut the top with a stem off , slice and chop it into rather small chunks, removing any big seed pockets. Place your chopped eggplant in a large frying pan on medium-low heat on the burner and add your oil. Stir in your bowl of chopped and minced friends and then continue to add your balsamic vinegar. Slice your lemon in half and squeeze out that juice into the mixture! Be sure to keep stirring the eggplant tapenade while adding ingredients. Keep it on the heat till it's reached your desired consistency (it will get slightly mushier the longer it's on) and add salt and pepper to taste. I tend to keep it on the burner for another 5 minutes or so, tasting as I go. Enjoy on some toasted ezeikel bread or serve to your friends on a lovely slice of baguette.