Happy, Healthy Friendships!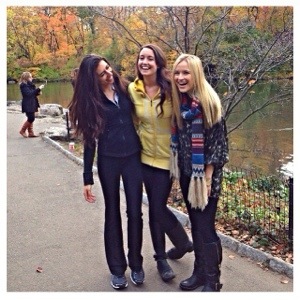 I'm spontaneously inspired to write a blog post about my lovely afternoon with Tara from Skinnybytara.com and Jordan from TheBlondVegan.com. These two lovely ladies joined me in Central Park to talk about our healthy, happy lives and businesses, oh and I also interviewed them both for GoSweetandSkinnyTV!(So you can totally look forward to that soon!) It really hit me how wonderful it is to surround yourself with POSITIVE, HEALTHY, EMPOWERING people.
hjkhkjkThere is a famous quote that goes something like,"You become most like the five people you spend the most time with, choose them wisely." While, I'm not positive it's limited to just five, I think it's really important to surround yourself with an awesome group of people who support your values. When you are starting along your wellness journey it is even MORE important to find some happy, healthy comrades to keep you company along the way. Having a great support group can be the difference between having fun while you get healthy (the girls and I already discussed smoothie parties, yoga dates and full on kitchen playtime!) and feeling alone and frustrated while trying to make healthier choices. I know it may seem scary at first but reach out! Make friends in yoga class, follow healthy gurus like myself, @skinnybytara and @theblondevegan on instagram or facebook and create a community for yourself. There are so many wonderful opportunities to connect with other wonderful, happy, healthy ladies and I promise to start being more proactive in helping spread the word about events for us to connect. For now, start the conversation on my facebook page or tweet at us (@gosweetnskinny,@theblondevegan,@skinnybytara) let us be YOUR sweet + skinny sisters!
Peace, Love and Cupcakes,
Cassandra